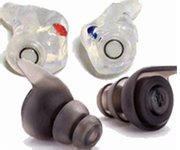 Modern music listening ear plugs have exploded onto the ear plug world over the past ten years or so, giving everyone, from casual music lovers to professional stage musicians an increasingly wide choice of ear plugs that let you choose the amount of sound reduction you experience, while still letting you enjoy the full experience of the music you love.

With music listening ear plugs, only the volume is reduced - not the fidelity.

For professional musicians and music lovers who want a great fit and the maximum in sound quality, we highly recommend full custom musicians ear plugs. We offer three models found near the bottom of this page: Westone Tru, Westone Style ES49, and Perfect-Fit CMP Model Custom Musicians Ear Plugs.