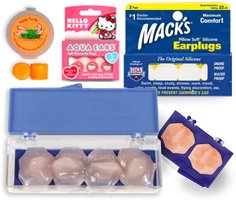 Moldable silicone ear plugs are comfortable and easy to use. These putty-like ear plugs are designed to seal over the ear canal (rather than sitting inside the canal like foam ear plugs), and they easily conform to the shape of your ears, making them some of the most comfortable ear plugs available. Each pair is good for several uses, until the ear plugs become dirty or begin to lose their ability to stick together when kneaded before insertion. For swimming, water sports, bathing, and any other situation where keeping water out of your ears is the top priority, moldable silicone ear plugs simply cannot be beat. They seal water out and never melt in the heat. Moldable silicone ear plugs are also a very popular choice for sleeping because they are so comfortable, and they don't stick out of the ears at all.

Note that these moldable silicone plugs don't offer as much noise blocking as other types of ear plugs. This is not ideal if you're looking for relief from very loud snoring. However, the lower NRR's on moldable silicone plugs won't make it difficult to hear your kids calling you at the pool or your alarm clock buzzing in the morning.

Regardless, if you need ear plugs for swimming, moldable silicone ear plugs really are the ideal solution.