Gyms and Exercise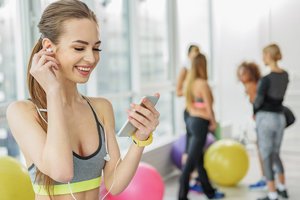 We have heard from customers like you that they love the gym but hate the music. Enter, the solution: simple, inexpensive, easy to use, safe, and effective ear plugs. We suggest reusable ear plugs and no-roll earplugs instead of disposable foam ear plugs because the foam plugs tend to get soggy in a heavy workout situation.

Here you will also find isolation earphones that are as great for use at the gym as they are for jogging, or even for use on your home treadmill. Many of our earphones block out noise in addition to playing music. And if wires are not your thing, grab a set of Bluetooth earphones from our music department below. You will find several in "earphones for work."

If you are the gym manager, consider getting ear plugs you can give (or sell?) to your members. They will appreciate your thoughtfulness. We can even imprint them with your brand and location for a greater impact.
---
Reusable Ear Plugs

Reusable ear plugs come in two varieties, industrial reusable ear plugs which are excellent for general noise protection applications, and consumer reusable ear plugs, which come in an incredible variety of styles to suit many specific applications.



No-Roll Foam Push-In Ear Plugs

With no-roll plugs, you use a built-in central stem to just push the foam plugs into your ears, for a simple, sanitary, effective and inexpensive option to traditional roll down foam earplugs. Here you can order small quantities.



Music

Here you will find all things related to music: natural sound musicians ear plugs that protect your hearing but still let you enjoy the music at concerts and clubs, headphones, earbuds, in-ear earphones, musicians monitors and more.



Custom Imprinted

We offer the widest range of custom imprinted ear plug options available anywhere. We can add your logo to the ear plug packet, hot-stamp your logo on a durable ear plug case, choose the specific color of the ear plugs you want using a Pantone Chart, and even print your logo on the end of each ear plug. We even add your custom logo to just about any product we sell.