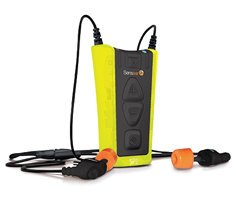 Electronic communications ear plugs provide a whole lot more than hearing protection and are designed especially with industrial workers and businesses both large and small in mind. Each model of ear plug is different, but electronic communications ear plugs can support several types of communications in high-noise environments, such as:
Face-to-Face Communications - Speak face-to face-with coworkers and team members without the need to constantly remove and reinsert the ear plugs, for convenient and safe communications virtually anywhere
Two-Way Radio Connectivity - With either a boom mic or an in-ear mic, plus an input jack to plug in your own 2-way radio, electronic communications ear plugs can serve as a hearing protector and radio headset all in one
Bluetooth Connectivity - Connect to any Bluetooth-capable device wirelessly; this feature allows you to safely use your smart phone in environments with up to an impressively hazardous 110dB of constant background sound
All electronic communications ear plugs are suitable for even the noisiest of environments, and all models support excellent situational awareness capabilities so you know what's going on around you even while wearing your hearing protection, for superior all-around safety. Interested in electronic communications ear plugs but not sure which model is right for you and your business? Have other questions? We are here to help: !
---