Electronic Communications Ear Plugs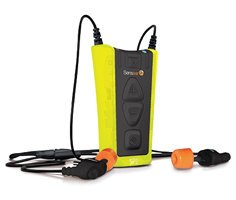 Electronic communications ear plugs provide a whole lot more than hearing protection and are designed especially with industrial workers and businesses both large and small in mind. Each model of ear plug is different, but electronic communications ear plugs can support several types of communications in high-noise environments, such as:
Face-to-Face Communications - Speak face-to face-with coworkers and team members without the need to constantly remove and reinsert the ear plugs, for convenient and safe communications virtually anywhere
Two-Way Radio Connectivity - With either a boom mic or an in-ear mic, plus an input jack to plug in your own 2-way radio, electronic communications ear plugs can serve as a hearing protector and radio headset all in one
Bluetooth Connectivity - Connect to any Bluetooth-capable device wirelessly; this feature allows you to safely use your smart phone in environments with up to an impressively hazardous 110dB of constant background sound
All electronic communications ear plugs are suitable for even the noisiest of environments, and all models support excellent situational awareness capabilities so you know what's going on around you even while wearing your hearing protection, for superior all-around safety. Interested in electronic communications ear plugs but not sure which model is right for you and your business? Have other questions? We are here to help: !
---
3M Peltor EEP-100 Electronic Earplugs (NRR 23-27)

(NRR 23-27) 3m PELTOR EEP-100 Electronic Ear Plugs block noise and amplify safe sounds for situational awareness in high-noise environments. Features internal volume limiting (82dB) for workers in OSHA-controlled workplaces. Provides 16-hours of use from one charge; comes with durable charging case.



Etymotic HD-15 High-Definition Electronic Ear Plugs

(NRR 25)

Etymotic HD15 Electronic Ear Plugs provide advanced electronic hearing protection for workers and industry in a compact ear plug form. Two modes of protection allow you to customize your hearing protection on the fly, offering a balance of natural sound hearing and powerful amplification of quiet sounds, protection from constant hazardous noise, and sudden impact noise protection.

SoundGear by Starkey Hearing technologies Instant Fit OSHA Compliant Digital Industrial Electronic Hearing Protection and Enhancement Devices (One Pair With Accessories)

NRR (25) SoundGear Instant Fit OSHA Compliant Digital Industrial Electronic Hearing Protection and Enhancement Devices provide a no-compromise combination of both situational awareness and hearing protection for the line worker in industry, oil and gas extraction, processing, construction, logging, logistics, mining and milling, as well as supervisory and management staff who must also function in OSHA regulated high noise environments, yet still remain able to carry on conversations and hear warning sounds.



3M Peltor TEP-200 Tactical Communication Earplugs (NRR 23/27/30)

3M Peltor TEP-200 Tactical Earplugs facilitate communication and situational awareness while blocking both constant and impact noise. Level-dependent hearing protection makes these ideal for tactical applications, industry, shooting, and other high-noise environments. Built-in antennas receive audio from neckloops (not included). Comes with rugged portable charging case.



3M Peltor TEP-200 Replacement Earbud TEP-200E (NRR 23/27/30)

This is a single replacement in-ear earbud for the 3M Peltor TEP-200 Tactical Earplug. Replace a single earbud instead of the entire pair to restore your hearing protection without re-buying the entire pair.