Custom Molds for Earphones, Two-Way Radio Headsets, and Other In-Ear Devices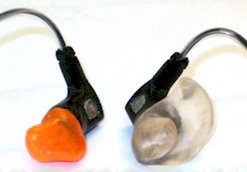 In-ear earphones or headphones, also referred to as isolation earphones, and musician monitors, have nearly taken over the music listening marketplace. Offering portability, easy storage, isolation from surrounding noise and extraordinary sound quality, in-ear listening devices represent a ground-breaking trend in high fidelity music enjoyment for music lovers.

Professional musicians enjoy all these benefits in the monitors they wear on stage, plus their monitors are custom made to fit them perfectly. And while full custom musician's monitors are available to anyone, their prices can be prohibitive for casual music fans.

Isolation earphones usually come with replaceable ear tips in several sizes. If you are one of the 20% or so of users who cannot get a good fit from the included tips, you may need custom molds for your earphones. For you, we offer a number of add-on custom molded ear tips you can use to make your off-the-shelf in-ear earphones or other earpieces fit as well as the full custom molded in-ear monitors used by the stars.

Whatever in-ear device you have, we can almost certainly make a custom mold that will convert it from universal to personal fit. If you do not find a custom mold listed for your device, please get in touch. We will be happy to help:
---
GeniSys™ Gen-Z™ Custom Ear Molds For All In-Ear Devices

Gen-Z custom earmolds let you convert almost any universal fit earpieces into custom fitting earmolds. If it goes in your ear, we can make a custom mold that holds your in-ear device securely and comfortably for all day wear. Applications include Apple AirPods, AirPods Pro II, Pilot headsets, Police and tactical curly tube earpieces, CEP Pilot headsets, All hearing aids (BTE, ITC, RIC models), Etymotic and other brand universal fit IEM earphones, standard ear buds, Silynx headsets, and more.

$92.00

Decibullz DIY Custom Moldable AirPods/EarPods Ear Hooks

Decibullz DIY Custom AirPods/EarPods Ear Hooks are the only do-it-yourself custom ear molds for AirPods and EarPods. Therma-Fit Ear Hooks are easy to heat and mold with no mess. Compatible with AirPods 1, AirPods 2, and EarPods.

$19.99

Got Ears? EZ Form DIY Earphone Mold Making Kit

Got Ears?® EZ Form™ DIY Earphone Mold Making Kit lets you quickly, easily and safely make your own custom fitting earphone molds right at home, and at a great price. No more earpieces falling out, or tinny sound due to poorly fitting replacement tips, and you will not believe how comfortable a set of earphones can feel until you try them with custom fitting earphone molds made for you, personally.

$9.95

Perfect-Fit CEPM Model Custom Ear Molds for In-Ear Monitors and Isolation Earphones (One Pair)

Perfect-Fit™ CEPM Custom Molds replace the stock tips that came with your earphones or other headset. Most users experience considerable improvement in comfort, and isolation as good or better than any stock tips. Sound improvement is also frequently experienced with these custom molds due to a better acoustic seal.

$159.00

Perfect-Fit CHA Model Custom Mold for all BTE Devices (One Earpiece)

Perfect-Fit™ CHA molds are professionally fabricated custom molds for your BTE hunting hearing aids, standard behind the ear hearing aids, police and security radio headsets, announcer earpieces and other sound-tube style communications devices.

$99.00

Westone Occupational Style 7 Custom-Fit Ear Molds for Earbuds/Jawbone and Other Brands of Earphones (One Pair)

Westone Style 7 Custom-Fit Ear Molds for Earbuds and Jawbone Earpieces are custom made to fit virtually any manufacturer's button style earbuds, or Jawbone style mobile phone earpieces.

$238.00

Westone Style 89 Ear Mold for RIC (Receiver-In-Canal) Hearing Aids (One Earpiece)

Westone Style 89 Ear Molds are made specifically to convert your RIC hearing aids to perfectly fitting custom hearing aids.

$119.00

Westone Occupational Style 32 Custom-Fit Skeleton Radio Earpiece with Curly Tube (One Earpiece)

Westone Model 32 skeleton style communications earpiece with curly audio tube is most commonly used with a teleprompter in broadcasting or by law enforcement personnel in the field.

$129.00

Westone Style 2 Ear Molds for Communications and Hearing Aids--No Noise Protection (One Earpiece)

Westone Style 2 Ear Molds are a discreet earpiece designed to let you hear normally while listening to communications. Ideal for law enforcement, broadcasting/teleprompters, and others who wear a communications earpiece for their jobs.

$119.00

Westone Style 34 Custom Ear Molds for Etymotic Earphones (One Pair)

Westone Style 34 custom molds for Etymotic earphones let you give your universal fit earphones a custom fit. Custom earphone molds enhance comfort and sound quality. Designed for Etymotic earphones, Westone Style 34 custom molds also work with some other models of in-ear monitors and earbuds.

$179.00
---
More Information About Custom Molds for Earphones
Benefits of Custom Molds for In-Ear Devices:
Custom molded replacement tips fit everyone perfectly, because each set is made from impressions taken of your unique ears.
Custom molded tips last many times as long as typical replacement tips, saving you money over time.
Custom molded tips are simply more comfortable. Ordinary replacement tips all apply pressure to the ear canal in order to create a seal (which is critical to accurate sound and adequate isolation,) while custom molded tips fit precisely into the canal without applying pressure to the canal walls.
Custom molded tips are available for all in-ear earphones, including those with unusual profiles which limit the available ordinary tip options.
Custom molded tips improve the quality of sound you hear from your in-ear earphones. Even when you get a comfortable fit from ordinary ear tips, we have found that many so not get a perfect seal. With even the tiniest opening between the ear canal wall and the tip, the bass response of your earphones can be dramatically reduced, resulting in the tinny, unsatisfying sound you may now be experiencing from your expensive in-ear earphones.
Custom Molded Tips can be Made for Virtually any In-Ear Device Including all of the Following:
Isolation Earphones (virtually all brands and all models)
Two-Way Radio Headsets Used by Security, Police, Military and Industrial Employees (tube type, curly tube security style and more)
BTE Hearing Aids (the tube attaches to the custom mold in the ear)
Stethoscopes (mechanical and electronic stethoscopes)
Motorcycle In-Ear Headsets
Aircraft Pilot's Radio Earpieces
NASCAR and Other Racing Driver Radio Earpieces
Cell Phone Earpieces (Most Wired and Bluetooth Styles)