Professional Lab Custom Molded Motorcycle Ear Plugs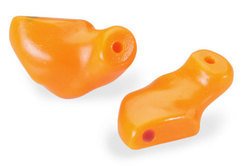 Professional Lab Custom Molded Motorcycle Ear Plugs are the very best motorcycle ear plugs you can get. These custom motorcycle ear plugs require you to mail us impressions of your ears. Ear impressions are easy to get: opt for the Do-It-Yourself Impression Kit with your purchase of any pair of professional lab custom ear plugs, and you can make your own ear impressions at home. Alternatively, you may visit your local audiologist to have ear impressions made.

Here, you will find a choice selection of professional lab custom molded ear plugs designed especially for bikers. These full-custom motorcycle ear plugs feature a low profile fit for wear with or without a helmet, and many also include a built-in acoustic filter to help eliminate the loud and irritating sounds (such as wind noise) that can damage your hearing while you ride, while still letting you hear safe sounds like voices or traffic signals clearly.
---
GeniSys™ Gen-X™ Solid Custom Ear Plugs

GeniSys Gen-X solid custom ear plugs are the ideal solution for hearing protection in high noise environments such as industrial workplaces and shooting ranges, as well as times when you just need some silence as when meditating, traveling on public transportation, or kicking back on your balcony in the noisy city. Gen-X solid custom earplugs are also an excellent choice for sleeping with a loud snoring partner, as well as for water protection when showering, bathing, or swimming.

$120.00

Perfect-Fit CMCP Model Custom Motorcycle Ear Plugs (One Pair)

Perfect-Fit™ Model CMCP motorcycle ear plugs are made in an ultra low profile canal only form to fit comfortably without interference under a motorcycle helmet.

$159.00

Westone Defendear Style 4RT Motorsport Custom-Fit Motorcycle Ear Plugs (One Pair)

Westone Model 4RT motorcycle ear plugs are designed for motorcyclists to wear under a helmet to help eliminate wind noise, but still let you hear traffic sounds.

$179.00

Westone TRU™ Custom Professional Musician Ear Plugs (Two Earpieces with Filters)

Westone TRU™ Custom Musician Ear Plugs with advanced acoustic filters let you accurately and clearly hear whatever you are listening to, but just at a reduced volume. Comes with one set of filters; swap them out to change your level of protection. Two Earpieces With One Filter in Each.

$199.00

Westone DefendEar Style 47 Filtered Acoustic Ear Plugs (One Pair)

(NRR 21-28)

Westone Model 47 high noise acoustic Filter Ear Plugs with convertible pop plug cord, lets you communicate in a high noise environment, while still retaining your hearing protection.

$179.00