Motorcycle Ear Plugs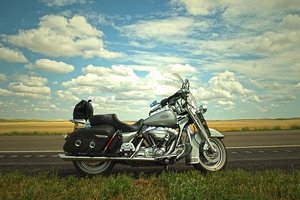 No matter what kind of motorcycle you ride, if you're a biker, you need hearing protection - period. Of course you want to be able to hear the throaty rumble of your engine, but that noise plus the constant roar of wind noise can quickly deteriorate your hearing. Fortunately, there are more choices for motorcycle hearing protection today than ever before, and we have gathered all our best motorcycle ear plugs here to make finding the right protection simple.

We offer several types of motorcycle ear plugs. The simplest solution is a trusty pair of foam ear plugs, which are comfortable, inexpensive, and provide great protection from noise. Next, our reusable motorcycle ear plugs are durable and long-lasting, they don't have stems or flanges that will interfere with wearing the ear plugs under your helmet, and they provide enough hearing protection to crush that constant rush of wind noise, but not enough to interfere with the situational awareness you need to stay safe on the road. And if you ride daily or frequently do long-distance runs on your bike, you will love our professional lab full custom motorcycle ear plugs - the very best motorcycle ear plugs available for serious riders.

If you find most off the shelf ear plugs uncomfortable or ineffective, but are not ready to shell out the big bucks for full custom ear plugs, give our moldable silicone or wax ear plugs a try, or even better, make your own custom ear plugs using our do-it-yourself custom ear plug kits. For a great set of high noise earphones, check out PlugFones MotorHead, or SensorCom Microbuds. Both give you noise protection with the ability to pipe comms or music to your ears while riding.

Not sure what to choose, or need something you don't see here? - we are here to help!
---
Foam Ear Plugs

Foam ear plugs are effective, comfortable, and inexpensive, making them ideal for most noise protection applications. From a single pair to thousands, this is your source for the widest selection of foam ear plugs you will find anywhere.



Reusable Motorcycle Ear Plugs

Reusable motorcycle ear plugs are great for eliminating irritating wind noise and protecting your ears. All of these ear plugs have been carefully chosen for bikers: they will all fit with or without a helmet, and they all provide just the right amount of sound blocking to keep you safe on the road.



Professional Lab Custom Molded Motorcycle Ear Plugs

These full-custom motorcycle ear plugs feature a low profile for wear with or without a helmet, and many also include a built-in acoustic filter to help eliminate wind noise while still letting you hear safe sounds like voices or nearby traffic clearly.



Moldable Silicone Ear Plugs

Moldable silicone ear plugs are easy to use, extremely comfortable, and excellent for swimming, bathing, and generally keeping water out of your ears. Silicone ear plugs will never melt or over-soften in the heat. Also a very popular choice for sleeping, studying, and relaxing. Best for swim and water.



Moldable Wax Ear Plugs

Moldable wax ear plugs soften in response to body heat and may very well be the most comfortable ear plugs for sleeping you will find anywhere. Made of a wax and cotton blend, these ear plugs are perfect for sleep and study in mildly noisy environments. Best for sleeping.



Do-It-Yourself Custom Molded Ear Plugs

DIY custom molded ear plugs are great if you're just learning about custom molded ear plugs and want to give them a try. These inexpensive ear plugs allow you to make yourself a nice little set of custom molded ear plugs in the comfort of your own home. DIY ear plugs are quick and easy to make, but the quality of the finished custom plugs can vary quite a lot.



MicroBuds Isolation Earphones (One Pair with Triple-Flange and Foam Tips)

Microbuds are so small you can wear them anywhere size and discretion are important: under a helmet, on the job or in your car. Excellent noise reduction and okay music all in a great little package...at a great low price too!

$39.95