Home > Hotels: Management & Guests

Hotels: Management & Guests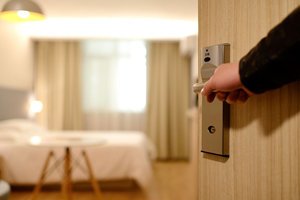 As a hospitality pro, we know the last thing you want are unhappy customers who have trouble sleeping while they are your guests. Making your guests comfortable when they are trying to sleep in an unfamiliar environment with the inevitable little noises that are unavoidable, always presents a challenge for you and your staff. Fortunately we have a wide range of solutions you can offer your guests to help them sleep better.

Some popular solutions used by our hotelier customers include the following:


Disposable foam ear plugs. Foam ear plugs are the most effective at blocking noise when properly inserted, however many of your guests will not find them satisfactory, since foam ear plugs require considerable skill to get them properly inserted. It is also difficult to predict what size of foam ear plug each visitor will need to use them comfortably all night.
Silicone Putty or Wax ear plugs. Moldable silicone or wax ear plugs fit everyone perfectly every time, can be used by children and adults alike, require no experience or knowledge to use, and are always comfortable to sleep with, because they mold to the ear as needed by simply lying on them. Of the two, silicone putty ear plugs offer several benefits over wax including lower cost and easier use. Wax plugs must be kneaded to soften them before insertion. This is not needed for silicone putty ear plugs. The benefits of wax ear plugs is slightly better noise reduction, and they are a little more comfortable because they soften with body heat to virtually eliminate any pressure after wearing them for just a few minutes.

White noise machines. One of the very best strategies for helping guests sleep well is to provide a desktop white noise machine in every room, or make them available as needed by guests who complain about noise. Some guests will object to using a masking sound, because it is an unfamiliar concept to them. We suggest that you keep a few on hand for sale to your guests, because after using a white noise machine to sleep with, some of them will want to take one home. The experience can be transformational for some!

Let us custom imprint ear plugs with your logo. We know your image is important, and we offer custom imprint options to help you maintain the professional image you have worked so hard to perfect.
In the links below you will find these and many more solutions that can help you help your guests sleep better while improving your professional image. If you do not find the solution you need or have questions, we are here to help:
---
Desktop White Noise Machines



We offer a wide selection of white noise machines including dual-voltage models designed for travel inside and outside the U.S. White noise for sleeping is a great way to block snoring. Try a white noise machine in the bedroom to sleep better, or to help improve concentration at the office.



Sleep



From ear plugs to white noise to earphones for sleeping, you will find the peace you need to get a good night's sleep here. We also offer dedicated snoring relief solutions, as well as eye masks and other safe sleep aids.



Mack's Shut-Eye Shade Sleep Mask - Pack of 10 Masks



Save big on this 10-pack of Mack's Shut-Eye Shade Sleep Masks. Block out all light and sleep like a movie star anywhere with these soft, low-pressure eye masks. This 10-pack is perfect for family reunions, work retreats, and group vacations.



Eye Masks & Sleep Aids



Our sleep aids include sleeping masks, alarm clocks you can hear over bedside white noise, and an ear pillow that lets you comfortably sleep on your side even while wearing ear plugs.



Add Your Custom Imprinted Label to (Almost) Any Product We Offer!



Let us add a full color, digitally imprinted, custom label, with your logo/message/image, to any product we carry.

Ideal for customizing ear plugs for your float spa, gun range, school, concert, and especially for customizing products you intend to give away to your customers.

If you want custom imprinted ear plug cases, or custom printed ear plugs, we offer those special items separately, but if you want to add your custom label to virtually any product we sell, order this item.

NOTE: this item will be charged in addition to the cost of the item you are buying which will receive the custom label. Shipping will be added before we charge your order.



Custom Imprinted



We offer the widest range of custom imprinted ear plug options available anywhere. We can add your logo to the ear plug packet, hot-stamp your logo on a durable ear plug case, choose the specific color of the ear plugs you want using a Pantone Chart, and even print your logo on the end of each ear plug. We even add your custom logo to just about any product we sell.