Industrial Safety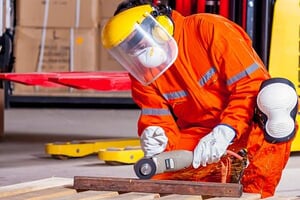 Industrial safety encompasses a huge category with products that protect every part of the human worker from workplace injury.



Here at Ear Plug Superstore, the products we do offer are made by the top producers in the world, and we provide them at excellent prices, with fast shipping, and knowledgeable friendly customer support.

If you do not find exactly what you need, please let us know. We will do our best to help.


---
Noise Measurement Tools

Learn more about your auditory environment with a noise dosimeter. These sound level meters tell you whether the noise levels around you are safe, or whether hearing protection is required. Most commonly used in industrial settings, you can use these noise level meters anywhere, from the public subway to your garage workshop at home.



Ear Plugs

Ear plugs are by far the most popular choice for ear and hearing protection, whether you're sleeping, biking, working, studying, or swimming. Ear plugs are economical, and we have tons of different kinds to choose from along with the info you need to help you pick - whether you're looking for one pair or thousands.



Ear Muffs

We carry a large selection of ear muffs, both high tech electronic ear muffs and regular passive models. Ear muffs are ideal for hunting and shooting, and for high noise communications, but can be used for almost as many purposes as ear plugs.



Gloves

Browse our selection of safety gloves.



Safety Glasses

Safety glasses with built-in ear plugs are an excellent and convenient way to take care of two different, important safety concerns. By combining eye protection with hearing protection, safety glasses with ear plugs make it easier to stay safe on the job, at your home workshop, or when shooting at the range or afield.



Respiratory Protection

Disposable respiratory masks are a critical safety item for many different situations, and getting the correct model is crucial. We offer three top rated brands--3M, Honeywell, and Moldex, and we are adding more brands to increase the options for customers. Whether you need a simple, inexpensive, non-rated dust mask, or one that is rated for oil-laden environments with organic vapors such as paint thinner, or welding environments carrying acid gasses, we have just what you need.



Food Industry Hearing Protection

Here we offer hearing protection solutions tailored specifically to meet the exacting hygiene demands of the food and beverage manufacturing industry. We provide them at excellent prices, with fast shipping, and knowledgeable friendly customer support.