Universal Fit Isolation Earphones & Musicians Monitors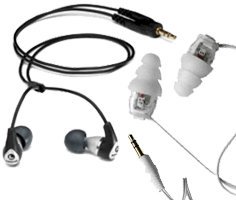 Isolation earphones are essentially ear plugs with tiny speakers implanted in them. When isolation earphones are used by musical or stage performers, they are often called Musicians Monitors. Whether they are called isolation earphones, canal phones, in-ear earphones, or musicians monitors, these earphones are all made to do the same thing: let you listen to music while reducing the ambient sounds you can hear. The ear plugs drastically reduce the ambient noise that can enter the ear, while the speakers deliver music directly into the ear canal for crystal clarity and superb fidelity even at low volume levels. Of course the more they cost, in general, the better will be the sound quality.

Universal fit isolation earphones and musicians monitors are ideal for stage performers, frequent flyers, commuters, athletes at the gym or running, workers at the job or in the home workshop, and for general music or radio listening enjoyment. We offer a separate category of workplace earphones that are made specifically for use in industrial high noise settings, and are provided with an NRR rating that tells you how effective they are at protecting you from external noise. All of these earphones are fully compatible with iPods, MP3 players, CD Players, XM radios, Scanners, Professional Musicians Monitor Systems, and regular stereo systems. Some applications may require adapter plugs, but the earphones are fully compatible.

Custom molds are available for these earphones! See Custom Molds for Earphones for more information and to order.