Reusable Sleeping Ear Plugs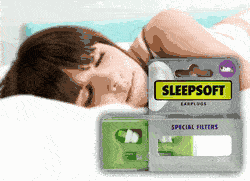 When ear plugs for sleeping become a permanent part of your nightly bedtime ritual, it is time to try reusable ear plugs for sleeping. Foam ear plugs are disposable and should only be used once before being replaced; moldable ear plugs are good for a few uses, but eventually lose their tackiness. One pair of reusable ear plugs for sleeping, on the other hand, can last for weeks with proper care.

Because comfort is paramount when it comes to sleeping ear plugs, we have collected here only those reusable ear plugs which are comfortable enough to wear during sleep. That means these reusable sleeping ear plugs don't have any hard stems or other bits that protrude from the ear. It may take some experimentation to find a reusable ear plug that fits your unique ears comfortably enough to help you sleep well, but finding the right reusable sleeping ear plug to replace those disposable plugs can start saving you money night after blissful night.




Hearos 309 New Rock 'N Roll Reusable Ear Plugs (NRR 27) (1 Pair w/ Case)
(NRR 27) Hearos New Rock 'N Roll reusable ear plugs are made with a sharply tapered, 4 flange design to fit nearly everyone perfectly. The extra-long stem features two ridges and a removable plastic stiffener, which together make insertion and removal a snap.


1-2
$4.00
3-11
$3.08
Save 23%
12-71
$2.86
Save 29%
72+
$2.67
Save 33%
SilentEar Reusable Ear Plugs, Orange Body w/Yellow Flange (NRR 32)
(NRR 32) One pair of SilentEar Reusable Ear Plugs with hi-viz yellow flanges and durable carry case. If you have never tried SilentEar, we highly recommend one of our trial packs to help insure that you get a proper fit.


1
$9.95
2-9
$8.31
Save 16%
10-49
$7.28
Save 27%
50-99
$5.29
Save 47%
100+
$4.48
Save 55%
SilentEar Reusable Ear Plugs, Orange Body w/Clear Flange (NRR 32)
(NRR 32) Heartech Silentear Reusable Ear Plugs are the highest rated reusable ear plugs available anywhere at any price. Ideal for sleeping and daily wear. Fits comfortably under helmets for motorcyclists, too.


1
$9.95
2-9
$8.31
Save 16%
10-49
$7.28
Save 27%
50-99
$5.29
Save 47%
100+
$4.48
Save 55%
Pluggerz All-Fit Sleep Earplugs (NRR 21.9-29.4)
(NRR 21.9-29.4) Pluggerz Sleep universal-fit earplugs for sleeping are an excellent way to block unwanted noises while you sleep. One pair can last for weeks of nightly use. Drift off to dreamland with Pluggerz reusable sleeping earplugs.


1
$13.11
2-9
$12.17
Save 7%
10-49
$11.36
Save 13%
50+
$10.65
Save 19%
Crescendo Sleep Ear Plugs (NRR 16)
(NRR 16) Designed for all-night wear and protection from disturbing night time noises such as snoring, noisy hotel rooms, traffic noise, and more. The low-profile fit and excellent comfort make Crescendo Sleep especially ideal for night-shift workers and people with snoring spouses.


1
$16.95
2-9
$15.56
Save 8%
10-49
$13.17
Save 22%
50+
$11.41
Save 33%
SilentEar Two-Pair ComboPack (NRR 32) (1 Pair Each - Average + Small)
(NRR 32) This ComboPack has two pairs (one average and one small) to let you find which will fit you best. Ear canals are unique as fingerprints. If you have never tried SilentEar, this ComboPack is highly recommended.


1
$17.95
2-9
$16.20
Save 10%
10-49
$14.18
Save 21%
50-99
$10.31
Save 43%
100+
$8.72
Save 51%
Earasers Peace and Quiet Earplugs
These ear plugs only block out mild to moderate noises, particularly in the high registers. This makes these ear plugs perfect to block out gentle snoring, the hum of the AC, or other light night time noises. You'll still be able to easily hear voices, kids crying, or your alarm clock.


1
$39.99
2-9
$35.00
Save 12%
10+
$30.00
Save 25%