Ear Plugs for Flying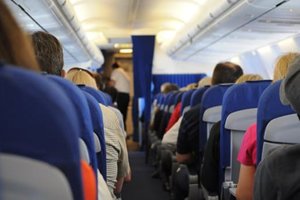 Ear Plugs offer the safest, most reliable solution to ear pain caused by rapid air pressure changes.



The earplugs listed here work by slowing the movement of air into and out of the outer ear, giving your inner ear more time to adjust to the changes in air pressure often experienced during flight. This approach works well for most people, eliminating or greatly reducing the ear pain they feel due to rapid changes in altitude when taking off and landing. Many people are also concerned about the pain their children may suffer when traveling by airplane; some of the flying earplugs below are designed especially for children.

Additionally, all of these earplugs also will reduce the noise level, for a more comfortable flying experience all around.


Cirrus EarPlanes Disney Planes Kids Ear Plugs for Flying (NRR 20)
(NRR 20) The original plugs for flying, lab-tested and proven effective for children. No more watching your child suffer from ear pain due to rapid pressure changes during airplane travel. Fun Disney Planes design on the package and the actual plugs especially for kids.


1
$5.32
2-9
$5.16
Save 3%
10-49
$4.94
Save 7%
50-199
$4.61
Save 13%
200+
$4.33
Save 19%
Mack's Flightguard Reusable Airplane Pressure Relief Ear Plugs (NRR 26)
(NRR 26) Mack's Flightguard Airplane Pressure ear plugs help relieve ear pressure pain and discomfort as the result of flying on airplanes. This unique PR3 design with ceramic filters has been lab-tested and frequent flyer approved to relieve air pressure


1
$5.54
2-5
$4.62
Save 17%
6-71
$4.26
Save 23%
72+
$3.69
Save 33%
Flents PROTECHS Travel Reusable Ear Plugs (NRR 24/4)
(NRR 24/4) PROTECHS Travel reusable ear plugs feature a dual mode, Flip to Listen™ design that is uniquely well-suited for travel. Little stoppers on the end of each plug let you change hearing modes without removing the ear plugs from your ears. Switch between NRR 24 and NRR 4 protection from noise.
$6.26
Cirrus EarPlanes Ear Plugs for Flying (NRR 20)
(NRR 20) The original plugs for flying, lab-tested and proven effective for adults and children. No more suffering from ear pain due to rapid pressure changes during airplane travel.


1
$7.48
2-9
$6.23
Save 17%
10-49
$5.75
Save 23%
50+
$4.99
Save 33%
Cirrus EarPlanes ep2 Ear Plugs for Flying (NRR 20)
(NRR 20) Cirrus EarPlanes ep2 flying ear plugs are new and improved with a more comfortable, easier-to-use design. Ceramic filters equalize pressure to prevent ear pain and popping during flight. Also blocks a little airplane cabin noise, while still allowing conversation. For kids and adults.


1
$8.62
2-9
$7.18
Save 17%
10-49
$6.63
Save 23%
50+
$5.75
Save 33%
FliteMate Reusable Flying Ear Plugs ComboPack (NRR 22) (2 Pairs: 1 Small & 1 Average)
(NRR 22) FliteMate™ ear plugs are the economical choice in top quality pressure management ear plugs for flying. FliteMate™ ear plugs are washable and reusable so you can use them for years. This ComboPack includes two sizes, each in a carry case, to fit most people from young teens through adults.


1
$9.95
2-9
$9.40
Save 6%
10-49
$8.93
Save 10%
50-99
$6.49
Save 35%
100+
$5.49
Save 45%
Pluggerz All-Fit Travel Earplugs (NRR 23.4-30.4)
(NRR 23.4-30.4) These reusable earplugs from Pluggerz make travel much more comfortable by cutting down on pressure pain from elevation changes and by reducing fatigue from cabin noise, roaring engines, and other irritating but unavoidable travel sounds.
$10.65