Commuter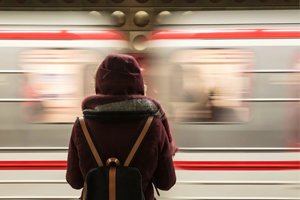 Your daily commute does not have to be uncomfortably noisy...really.
We can help.

As a daily commuter, you know how noisy the ride can be from home to work and back again. Whether you want to listen to music without having to turn it up so high it is uncomfortable (and potentially dangerous to your hearing...,) you just want the volume to be lower so you can carry on a conversation without having to shout at each other, or you just want silence, we can help.

As always, if you do not find the solution you are seeking, or if you are overwhelmed by the options available, get in touch. Our friendly, knowledgeable staff are here to help:
---
GeniSys™ Gen-Z™ Custom Ear Molds For All In-Ear Devices

Gen-Z custom earmolds let you convert almost any universal fit earpieces into custom fitting earmolds. If it goes in your ear, we can make a custom mold that holds your in-ear device securely and comfortably for all day wear. Applications include Apple AirPods, AirPods Pro II, Pilot headsets, Police and tactical curly tube earpieces, CEP Pilot headsets, All hearing aids (BTE, ITC, RIC models), Etymotic and other brand universal fit IEM earphones, standard ear buds, Silynx headsets, and more.

$92.00

GeniSys™ Gen-X™ Solid Custom Ear Plugs

GeniSys Gen-X solid custom ear plugs are the ideal solution for hearing protection in high noise environments such as industrial workplaces and shooting ranges, as well as times when you just need some silence as when meditating, traveling on public transportation, or kicking back on your balcony in the noisy city. Gen-X solid custom earplugs are also an excellent choice for sleeping with a loud snoring partner, as well as for water protection when showering, bathing, or swimming.

$120.00

Custom Molded Ear Plugs

Custom molded ear plugs are the best ear plugs for everyone because each pair is uniquely crafted to fit your unique ears. Two types of custom molded plugs are available: professional lab custom molded ear plugs, which are the finest quality ear plugs you can get, and do-it-yourself custom molded plugs, which provide some of the same great benefits of professional custom plugs at a fraction of the cost.



High Noise BlueTooth Headsets

BlueTooth connectivity has come of age. BlueTooth is hands-down the best way to connect to your smartphone for music listening, but now BlueTooth headsets are also a great way to facilitate communications and get rid of the wires required by old-fashioned connection methods. By using this new technology, full duplex conversations can be held using BlueTooth compatible headsets coupled with your existing smartphone, BlueTooth enabled two way radio, and in some cases, direct BlueTooth connectivity between headsets. We believe this technology can solve many of the communications problems you may have in loud environments, and at a much lower price point. We encourage you to check out our list of BlueTooth compatible headsets and check back often. We are focused on bringing more options to you as quickly as we can find them.



Music

Here you will find all things related to music: natural sound musicians ear plugs that protect your hearing but still let you enjoy the music at concerts and clubs, headphones, earbuds, in-ear earphones, musicians monitors and more.



Foam Ear Plugs

Foam ear plugs are effective, comfortable, and inexpensive, making them ideal for most noise protection applications. From a single pair to thousands, this is your source for the widest selection of foam ear plugs you will find anywhere.



Reusable Ear Plugs

Reusable ear plugs come in two varieties, industrial reusable ear plugs which are excellent for general noise protection applications, and consumer reusable ear plugs, which come in an incredible variety of styles to suit many specific applications.



No-Roll Foam Push-In Ear Plugs

With no-roll plugs, you use a built-in central stem to just push the foam plugs into your ears, for a simple, sanitary, effective and inexpensive option to traditional roll down foam earplugs. Here you can order small quantities.



Banded Ear Plugs

Ideal for shooting and other intermittent noise situations, Banded Earplugs, or Hearing Bands, feature ear plugs mounted on a plastic headband. Available in a variety of styles and NRRs, Banded Earplugs help keep plugs in place for a better, more effective fit. Never lose your ear plugs again!



Moldable Wax Ear Plugs

Moldable wax ear plugs soften in response to body heat and may very well be the most comfortable ear plugs for sleeping you will find anywhere. Made of a wax and cotton blend, these ear plugs are perfect for sleep and study in mildly noisy environments. Best for sleeping.



Moldable Silicone Ear Plugs

Moldable silicone ear plugs are easy to use, extremely comfortable, and excellent for swimming, bathing, and generally keeping water out of your ears. Silicone ear plugs will never melt or over-soften in the heat. Also a very popular choice for sleeping, studying, and relaxing. Best for swim and water.