Electronic Ear Plugs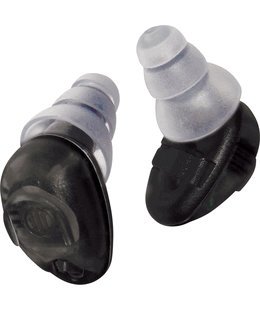 The most important electronic ear plugs features:
Smart Protection - Protection that changes as your ambient sound environment changes. Electronic ear plugs can "listen" to the sounds around you, provide automatic protection from sudden impact noises (such as gunshots or cymbal crashes), or even slowly turn up a lower NRR of protection in response to background noise gradually increasing to a hazardous level. Electronic ear plugs help you get exactly the protection you need from one moment to the next, without you ever needing to remove or fiddle with your ear plugs.
Hearing Clarity and Amplification - Hear better while wearing ear plugs! Our electronic ear plugs all provide two modes for enhanced auditory perception. Natural hearing mode allows the user to hear what's going on around her just as if she were not wearing ear plugs at all (until a dangerous sound occurs). Amplification mode actually makes safe sounds such as voices, game sound, your range instructor's commands, or bird song from that tree across the field louder, playing the amplified sounds through tiny speakers in your ears. The smart hearing protection only kicks in to block noise when it's needed.
Electronic ear plugs are a superior choice for any situation in which you need hearing protection AND situational awareness (the ability to hear what's going on around you, critical when using firearms or working around heavy machinery!). Electronic plugs are excellent for hunters and shooters in the range or out in the field, for music educators and musicians of all ages, and for industrial workers both on the factory floor and operating heavy machinery. The excellent situational awareness these plugs provide, combined with their smart hearing protection, make electronic ear plugs some of the best hearing all-around safety equipment available today.


Hunting Hearing Aids

Hunting hearing aids are available in behind the ear or in the canal models. These devices amplify sound so you can hear better, but they automatically limit the volume to a safe level when a dangerously loud sound comes in contact. Many people also use hunting hearing aids to help them hear better in their daily lives. Hunting hearing aids are an economical alternative to professional hearing aids for those with mild to moderate hearing loss.



Hearing Aids

Regular hearing aids provide amplification of hard-to-hear noises for those seeking to boost their ability to hear the sounds around them (TV, voices, birds, grandkids, etc.) The hearing aids we carry are generally designed to address mild to moderate hearing loss, and they are far less expensive than the hearing aids you would get from an audiologist. Regular hearing aids do not provide hearing protection from loud noises.



Electronic Communications Ear Plugs

Maintain communications in high-noise environments without ever having to remove your hearing protection, for superior all-around safety and situational awareness. Choose from face-to-face, two-way radio, or bluetooth communications capabilities to get the hearing protection you need while facilitating your critical communications clearly, even in the noisiest of industrial settings. Specially designed with businesses and industrial workers in mind.



Electronic Musician Ear Plugs

These innovative ear plugs for musicians "listen" to your auditory environment and adjust the amount of hearing protection you receive from moment to moment automatically, allowing you to protect your ears from hazardous noises without diminishing your ability to clearly hear the rest of the music.