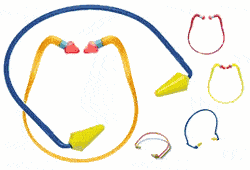 Ideal for shooting and other intermittent noise situations, Banded Ear Plugs, also known as Hearing Bands or Ear Bands, are a unique solution to hearing protection: cooler than ear muffs, more convenient than ear plugs, and always handy when you need them.
Banded Earplugs are exactly what they sound like: ear plugs mounted on a plastic headband. Always convenient, the band helps to keep the plugs in place for a better, more effective fit every time. The band also helps with visibility. Never lose your ear plugs again!
Check here for Banded Ear Plug Replacement Tips.