High Noise Comm Headsets for Two-Way Radios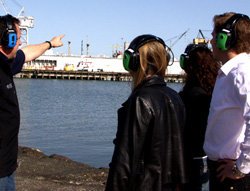 2-Way Radio Communication Headsets for Use With External Radios facilitate safe 2-way radio communications in high-noise environments, and each headset includes both a microphone and an input jack to connect with your current 2-way radio (proper adapter cables are generally required and sold separately.) These high noise headsets are the ideal solution for very loud environments in which members of a team of two or more need to maintain communications beyond face-to-face (normal speech) range, and still have continuous protection from hazardous environmental noise. Two-way radio communications headsets are a necessity in police and military work, as well as in many construction, industrial maintenance, and other settings.

Whatever 2-way radio + hearing protection solution you need, we are here to help:



Note that all of these headsets require you to have your own separate, external 2-way radio.

For electronic comms ear muffs with built-in 2-way radio, please see our 2-Way Communication Ear Muffs with Built-In Radio.
---
EarPhone Connection (EPC)






Opsmen Earmor M32 Tactical Electronic Communications Ear Muffs with Boom Mic and NEXUS TP-120 Downlead Mod 3 (NRR 22)

(NRR 22) Opsmen Earmor M32 Tactical Electronic Communications Ear Muffs are modeled after the Peltor ComTac headsets for military use. Features: Boom mic, NEXUS TP-120 downlead, rugged waterproof construction, dual mics for situational awareness, volume amplification, OSHA-compliant internal volume limiting, automatic noise compression, boom mic, fixed downlead to connect to PTT adapter attached to 2-way radio.



3M Peltor MRX21A2WS6-NA WS ALERT XP Headset Electronic Ear Muffs (NRR 23)

(NRR 23) 3M Peltor MRX21A2WS6-NA WS™ ALERT™ XP Headsets block hazardous noise while amplifying ambient sound. Provides Bluetooth™ listening and calling (w/ boom mic) plus internal volume limited to 82dB; OSHA compliant.
Contact us for price.



3M Peltor Comtac/Swattac Electronic Tactical Ear Muffs (NRR 21)

(NRR 21) ComTac electronic tactical ear muffs were created for the most demanding military communications challenges. Now available in third and fourth generation models, ComTac headsets are available to military, police, and civilian shooting enthusiasts as well.



3M Peltor PTT Adapter Reference Table

3M Peltor ComTac, SwatTac, MT Series and other model two-way radio headsets are generally equipped with a fixed downlead (or two), terminated with a male TP-120 plug that mates with a push-to-talk (PTT) inline adapter cable. Each PTT cable is terminated on the other end with the connector required to plug into one of the many different two-way radios currently on the market. Visit this page to find the PTT cable you will need for your radio.



3M Peltor MT Series High Noise Two-Way Radio Headsets (NRR 25)

(NRR 25) 3M Peltor MT Series High Noise Two-Way Radio Headsets are designed for use in the most demanding industrial and commercial high-noise environments. Whether you need a comm headset that will perform in your high noise environment in manufacturing, processing, heavy equipment operations, aboard ship, in or around aircraft, logging operations, and even in explosive environments such as milling, mining, energy extraction and processing, Peltor MT Series headsets offers the solution you need.



3m Peltor Tactical Pro Two-Way Radio Electronic Ear Muffs (NRR 26)

(NRR) Tactical Pro is designed for demanding industrial applications making it ideal for serious shooters, OSHA regulated workplaces and home workshops. Tactical Pro is a great choice for anyone who needs a little help hearing better on the job; a great choice for improved situational awareness and good face to face plus two-way communications in high noise situations (PTT adapter required for 2-way operation.)