White Noise Machines to Mask Noise and Improve Sleep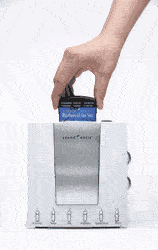 White Noise Machines are ideal for:
Masking snoring noises from a sleeping partner. No dangerous surgery or questionable "cures" needed!
Masking environmental noises such as voices from next door or traffic, to improve sleep, study, and relaxation.
Masking internal noises from tinnitus; white noise is virtually the only solution for internal noise.
Masking conversation for speech privacy, as in large or executive offices and doctor's waiting rooms.
Soothing babies to sleep, helping them learn to go to sleep independently.
Soothing children to sleep in strange places when traveling.
Helping college students concentrate on studies in the noisy dorm room.
We offer a wide selection of white noise machines, including dual-voltage models designed for travel inside and outside the U.S. Order your white noise machine right now, and get the relief you want and need.

- For business applications please visit our Office Applications department.
- For more information read our report, Sleeping With Noise.
---
Marpac Hushh Portable White Noise Machine for Baby

Marpac Hushh is a portable white noise machine for babies. Small, light, and simple to use, the Hushh creates a mobile bubble of soothing sound to help your baby sleep anywhere. Clip it to your stroller or car seat. Recharges via micro USB cable. Choose from 3 sounds to help baby stay asleep longer.



Sound + Sleep ASM1002 Adaptive Sound Sleep Therapy System™ (*FREE Shipping!)

Sound + Sleep Adaptive Sound Sleep Therapy System™ by ASTI, provides a unique set of features and capabilities making the Sound + Sleep™ a powerful tool for helping you get the deep and refreshing sleep you crave.

$99.95

Sound Oasis S-550-04 White Noise Machine Sound Masking System

This high quality machine has it all: Interchangeable sound cards, fade out timer, headphone jack, large speaker, onboard battery compartment, wall or table mount, and low price.

$29.00

Marpac Marsona Accessories

Pillow speakers and power supplies designed to work with Marpac Marsona white noise machines.