Music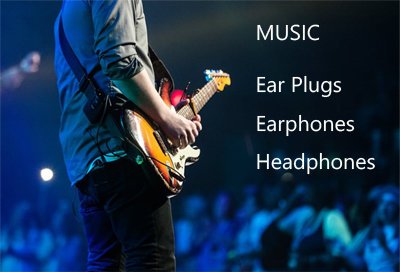 Here you will find all things related to music: natural sound musicians ear plugs that protect your hearing but still let you enjoy the music at concerts and clubs, headphones, earbuds, in-ear earphones, musicians monitors and more.

Modern musicians ear plugs are a fabulous solution for music lovers as well as anyone who finds the world is just too noisy for comfort. More and more people are regaining control over their noisy world by choosing to wear musicians ear plugs at work, play and down time. These are available in universal fit models as well as custom versions. Earphones today have become a necessity for many people, and in numerous life situations. Whether you need a set of inexpensive earbuds for your iPhone, or a quad driver in-ear professional musician monitor, we have a solution made for you. We are experts at creating full custom earmolds that will make your existing earphones fit like a glove, as well as providing top quality full custom earphones when you are ready to move up to a better headset.

Browse the departments below. We are sure you will find some surprising solutions, and check back often. We are always adding new products to this department, where high tech music listening products meet great customer service.

Tip: Earphones fit inside your ears, like earbuds, isolation earphones, musicians monitors, while Headphones sit over the ear with a headband to keep them on.
---
Ear Plugs for Musicians and Concerts

Explore the world of musicians ear plugs here! We think you will be impressed with what you find. Modern music listening ear plugs have exploded onto the ear plug world over the past ten years or so, giving everyone, from casual music lovers to professional stage musicians an increasingly wide choice of ear plugs that let you choose the amount of sound reduction you experience, while still letting you enjoy the full experience of the music you love. With music listening ear plugs, only the volume is reduced; not the fidelity!



Earphones for Work

All of these workplace earphones, headsets, and ear muffs provide hearing protection for OSHA regulated workplaces in addition to music listening capabilities. Many also have a volume limiting feature that means your music stays at a safe, OSHA-approved volume that won't damage your hearing.



Custom Isolation Earphones and Musicians Monitors

Custom Musicians Monitors are absolutely the best in-ear earphones for live music monitoring available anywhere. Each pair of these full-custom monitors is specially crafted to fit your unique ears, providing truly unbeatable comfort and sound quality. These are the in-ear musicians monitors the pros choose, and so do audiophiles in the know. If you love your music, you deserve a set of custom musicians monitors!



Universal Fit Isolation Earphones

Isolation earphones are essentially ear plugs with tiny speakers implanted in them. When isolation earphones are used by musical or stage performers, they are often called Musicians Monitors. Isolation earphones let you listen to music while reducing the ambient sounds you can hear.



AM/FM Radio Ear Muffs

When you must wear a hearing protector, why not wear one that lets you enjoy a built in radio while you work? Worktunes by Peltor and AO Safety are the category leaders, but we offer a number of other brands of ear muffs with built-in radios as well.



Headphones, Earphones, and Earbuds

The headphones, earphones, and earbuds we carry here at Ear Plug Superstore are all special. From hard to find, inexpensive Got Ears? Grandads Earbuds, to value priced active noise canceling headphones for airline travelers, we offer the best solutions we can find that address the real-world problems of our customers.



Earphones for Sleeping and Pillow Speakers

If you like to listen to music while you drift off to sleep, then earphones for sleeping are exactly what you need. We also offer pillow speakers as another solution for comfortable nighttime music listening.



Earphones for Kids

With cell phones, laptops, and tablets becoming a part of your child's life at an earlier age, there has never been a greater need for earphones designed for children. A smaller size and volume limiting are two features to look for. You will find earphones especially designed for kids here.



Ear Muffs for Babies and Kids

Ear Muffs for Children are often the best choice when it comes to hearing protection for kids. We have chosen several excellent ear muffs that are lightweight and comfortable enough for children, babies and toddlers.