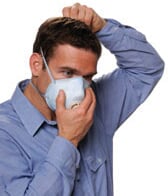 Disposable respiratory masks are a critical safety item for many different situations, and getting the correct model is crucial.

We offer three top rated brands - 3M, Honeywell, and Moldex - and we are adding more brands to increase the options for customers. Whether you need a simple, inexpensive, non-rated dust mask, or one that is rated for oil-laden environments with organic vapors such as paint thinner, or welding environments carrying acid gasses, we have just what you need.

If you need help choosing, we have a number of product guides in the pages below, and of course, our helpful staff are available to assist you via chat (in the lower right corner of your screen), email us at info@earplugstore.com, or phone us at 918-478-5500. We are here to help.