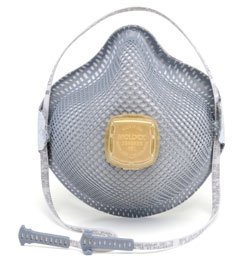 All respirator masks are out of stock.
Due to the ongoing health crisis, all our respirators are sold out. We have no masks for sale. We have no information on when we will have stock again, but we do not anticipate it will be any time soon. Our apologies. We wish you the best in these difficult times.
Moldex 2940 Disposable Respirator Features
Dura-Mesh® shell stands up to hot, humid conditions
Ventex® Valve releases hot air and lowers breathing resistance
Meets heat and flame resistance in accordance with ANSI/ISEA 110-2003 Section 7.11.1
95% efficiency against both oil and non-oil based particles
Provides nuisance-level acid gas relief
Molded nose bridge for enhanced comfort
No metal noseband and no painful pressure points
Softspun lining is soft and gentle on the face
HandyStrap cloth strap allows mask to hang from the neck between uses
100% PVC-free
Moldex 2940 Disposable Respirator Details



Moldex 2940 Disposable Respirators provide 95% efficiency in protecting against both oil and non oil based particulate. They also have added sorbent to protect workers against nuisance levels (less than OSHA PEL) of acid gas irritants. The exclusive Ventex® Valve allows workers to breathe easy, providing lowered breathing resistance and allowing heat to vent away. Workers stay cool and comfortable.

Moldex 2940 respirators include a sturdy Dura-Mesh® shell, that helps the masks last longer in hot, humid conditions, allowing workers to use fewer respirators. Dura-Mesh® also keeps the filter media looking cleaner for longer. The 2940 features the HandyStrap, a buckled cloth strap that allows workers to quickly hand the mask around their necks between uses, so a respirator is always close at hand. Also features a soft foam nose pad and a contoured nose bridge, for a comfortable, dependable fit.

Moldex 2940 Disposable Respirator Applications

For chemical processing, ceramic and clay processing, fertilizer production, breweries, paper mills, glass etching, aluminum, copper, zinc, brass, and bronze smelters. Also for humid, hot, and dusty environments including textiles, poultry, lime, buffing, polishing, underground mining, cement, metal machining, stone quarrying, bagging, sweeping, sanding, grinding, brazing, soldering, and welding. For use with both oil and non oil based particulates.


Choosing N-, R-, or P-Series Particulate Respirators


N Series

R Series

P Series
About Efficiency

Filter efficiency shows how much filter leakage can be accepted. Higher efficiency means less leakage.

95%, 99%, and 99.97% are the most common filter efficiency ratings.
Used in particulate environments free of oil aerosols. N-series filters cannot be used if oil particles are present.
Used for oil and non-oil particles with time use limitations specified by NIOSH. If oil particles (e.g., lubricants, cutting fluids, glycerine) are present, use an R- or P-series filter.
Used for oil and non-oil particples with time use limitations specified by manufacturer. If oil particles are present and the filter is to be used for more than one work shift, use only a P-series filter.
See the NIOSH Pocket Guide to Chemical Hazards to learn more.
Moldex Particulate Respirator Product Selector

Usage Type
Product Code
Size
Strap Material
Quantity


Find the respirator for your specific application. Using the information below, you can choose the right Moldex disposable particulate respirator to meet your needs:

1200 N95
S/M/L
Latex
20/Box
XS/S/M/L
Non-Latex
20/Box
1712 N95
M/L
Non-Latex
20/Box
2112 N95
M/L
Latex
20/Box
2200 N95
S/M/L
Latex
20/Box
2200HV N95
M/L
Latex
20/Box
2250 N95
M/L
Latex
5/Locker
2300 N95
S/M/L
Latex
10/Box
2350 N95
M/L
Latex
5/Locker
2400 N95
M/L
Latex
10/Bag
2600 N95
S/M/L
Cloth
15/Box
M2600 N95
S/M/L
Cloth
15/Box
2700 N95
S/M/L
Cloth
10/Box
M2700 N95
S/M/L
Cloth
10/Box
2850 N95
M/L
Cloth
4/Locker
4200 N95
M/L
Non-Latex
10/Box
4600 N95
M/L
Cloth
10/Box
EZ22-N95
S/M/L
Cloth
10/Bag
EZ23 N95
S/M/L
Cloth
10/Bag
2500 N95
M/L
Latex
10/Bag
2800 N95
S/M/L
Cloth
10/Box
M2800 N95
S/M/L
Cloth
10/Box
4800 N95
M/L
Cloth
8/Box
2310 N99
M/L
Latex
10/Box
2315 N99
M/L
Cloth
10/Bag
2740 R95
S/M/L
Cloth
10/Box
D2740 R95
M/L
Cloth
10/Box
M2740 R95
S/M/L
Cloth
10/Box
2840 R95
S/M/L
Cloth
10/Box
M2840 R95
M/L
Cloth
10/Box
2940 R95
S/M/L
Cloth
10/Box
2360 P100
M/L
Cloth
5/Bag
2730 N100
S/M/L
Cloth
4/Box
2730A N100
S/M/L
Cloth
20/Bag
4700 N100
M/L
Cloth
5/Box
4300 P95
M/L
Cloth
8/Box
---
See More Moldex Respirators
---