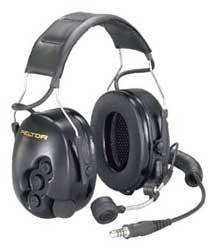 Contact us for pricing:

3m Peltor Tactical Pro Two-Way Radio Electronic Ear Muffs feature a 26 NRR for excellent noise protection, a built-in microphone and sensor in each ear cup, connected to onboard electronics that amplify low level ambient sounds while compressing dangerously loud noises instantly, for true stereo sound that provides extraordinary situational awareness and the ability to hear better with Tactical Pro on than with the open ear.
A boom mic and fixed downlead allow you to connect Tactical Pro to your own two-way radio. The fixed downlead is terminated with a sturdy TP-120 male plug that plugs into a PTT adapter (sold separately) which in turn attaches to your two-way radio.
Tactical Pro is OSHA compliant with a built in volume limiter that prevents volume in excess of 82 dB from reaching the ear.
Tactical Pro is designed for demanding industrial applications making it ideal for serious shooters, OSHA regulated workplaces and home workshops. Tactical Pro is a great choice for anyone who needs a little help hearing better on the job; a great choice for improved situational awareness and good face to face plus two-way communications in high noise situations (PTT adapter required for 2-way operation.)
3m Peltor Tactical Pro Two-Way Radio Electronic Ear Muffs Features and Benefits:
Comfortable, fully adjustable padded headband with stainless steel spring arms that provide the rated noise protection with minimum temple pressure.
Generously sized ear cups with liquid/gel filled soft ear pads provide excellent NRR 26 noise protection and all day comfort.
Three styles to suit your specific situation: Folding headband, Neckband or Hard Hat models.
Full range push button volume adjustment you can operate with gloves on to let you set the amount of amplification you need. Can help those with mild to moderate hearing loss, or just give you "bionic" hearing when hunting.
Each ear cup has a microphone that together gives you 360 degree stereo directional hearing for maximum situational awareness and safety on the job as well as excellent ability to locate the direction of game calls and sounds while hunting.
Easy activate push button on/off, with auto off after 2 hours to save batteries.
Attachment to your two-way radio is via a reliable and sturdy TP-120 plug and mating jack in a PTT adapter (sold separately) which also serves as a quick-disconnect in emergency situations
PTT adapter cables are made to precisely fit a wide range of radios. (See our comprehensive Peltor PTT adapter cable selection guide.)
Powered by 2 AA batteries providing 270+ hours of use. Low battery warning sound lets you know you are about to need a new set.
Tactical Pro, without boom mic and fixed downlead is also available. See below.
---
See Also: