Intrinsically Safe Communication Ear Muffs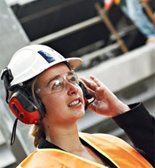 Intrinsically Safe Communication Ear Muffs provide the benefits of hearing protection and communications capabilities in even the most hazardous of environments. All the electronic communication ear muffs listed below on this page are Certified Intrinsically Safe (IS).

With these IS communication ear muffs, you don't have to sacrifice quality hearing protection or cutting-edge communications features for safety. These ear muffs use advanced speech enhancement technology to allow workers to talk face-to-face while remaining protected from hazardous noises. They also offer 2-way radio capability, with both an input jack for use with your existing radio (not included) and a 2-way short range radio built into each set of ear muffs. To top it off, these IS ear muffs even have wireless BlueTooth capabilities, making them some of the most capable and versatile intrinsically safe communications devices available.
---
3M Peltor MT Series High Noise Two-Way Radio Headsets (NRR 25)

(NRR 25) 3M Peltor MT Series High Noise Two-Way Radio Headsets are designed for use in the most demanding industrial and commercial high-noise environments. Whether you need a comm headset that will perform in your high noise environment in manufacturing, processing, heavy equipment operations, aboard ship, in or around aircraft, logging operations, and even in explosive environments such as milling, mining, energy extraction and processing, Peltor MT Series headsets offers the solution you need.



3M Peltor Lite-Com Pro II Intrinsically Safe Two Way Radio Communications Headset MT7H7F4010-NA-50 (NRR 25)

(NRR 25) Peltor LiteCom Pro II Intrinsically Safe 2-Way Communications Electronic Ear Muffs feature a built-in UHF two way radio programmable to work with your existing UHF radios, a maximum transmit range of 3 kilometers and situational awareness features. LiteCom Pro II communications headsets are the perfect tool for communicating in high noise environments that require Intrinsically Safe Certified equipment.