DIY Home and Garden Hearing Protection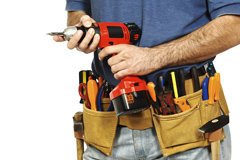 Keeping your home well maintained and your lawn beautiful requires a lot of hard work. For any dedicated DIY'er, we know the results are well worth the effort. And that effort extends well beyond the walls of your garage or home workshop. Mowers, edgers, sanders, drills, saws, and other home and garden power tools can all put out an astonishing amount of sound -- and all that sound can cause very real noise-induced hearing damage.

Whether you're working toward that golf-course-quality lawn, installing new shelves in your child's room, or tackling a whole do-it-yourself kitchen remodel project, there is one item that always belongs in your toolbox: hearing protection.

Here you will find a selection of hearing protection devices for do-it-yourselfers, lawn and garden perfectionists, and fixer-upper weekend warriors, all of which are designed to work just as hard as you do.


Crescendo Gardening Ear Plugs (NRR 16)

(NRR 16)

With excellent fit and comfort, special DEC noise filters, and just the right amount of noise protection, Crescendo Gardening Ear Plugs are the perfect solution for yard work, lawn care, gardening, and all your other outdoor home and garden chores and hobbies.

1
$16.95
2-9
$15.56
Save 8%
10-49
$13.17
Save 22%
50+
$11.41
Save 33%

Crescendo DIY Ear Plugs (NRR 16)

(NRR 16) Whether you spend your free time in your garage or workshop, whether you're constantly improving your home and garden, or whether you're a remodeling weekend warrior, Crescendo DIY Ear Plugs belong on your toolbelt -- and in your ears!



1
$16.95
2-9
$15.56
Save 8%
10-49
$13.17
Save 22%
50+
$11.41
Save 33%

Radians Dewalt DPG63 Disposable Foam Ear Plugs (NRR 33) (5 Pairs + FREE Carry Case)

(NRR 33) These disposable foam ear plugs are ideal for high to extreme noise environments -- which is exactly the kind of tough, get-it-done protection you would expect from DeWalt.

$2.54

Radians Dewalt DPG65 Disposable Foam Ear Plugs - Corded (NRR 33) (2 Pairs + FREE Carry Case)

(NRR 33) These disposable foam ear plugs are ideal for high to extreme noise environments -- which is exactly the kind of tough, get-it-done protection you would expect from DeWalt. Corded.

$2.54

Pluggerz All-Fit Hobby Earplugs (NRR 22-27.9)

(NRR 22-27.9) These reusable earplugs from Pluggerz are ideal for crafting, do-it-yourself projects, home garages and workshops, and even mowing the lawn. Communicate clearly with others while protecting your ears from punishing power tools and other crafty noise hazards.

$10.65

Etymotic ER20-SFT-FROST-P ER20-SFT-WHITE-P Ety-Plugs HD High-Definition Ear Plugs (NRR 12) (One Pair, with Cord, and Case)

(NRR 12)

With Ety-Plugs HD, alarms, warning sounds and voices all stay clear, and ambient sounds remain audible. This situational awareness is key in keeping workers in touch with their surroundings for an all-around safer experience. One pair of ear plugs.

1
$13.95
2-9
$10.93
Save 22%
10-99
$10.20
Save 27%
100+
$9.56
Save 31%

NoNoise DIY & Gardening Model 154 Silicone Free Thermoplastic Reusable Ear Plugs with Precise Noise Filtration (SNR 19) (One Pair with Carry Case)

(SNR 19) These earplugs provide hearing protection tuned for use with noisy home and garden tools. And thanks to their unique sound filtering process, you can still communicate easily and clearly while wearing these hearing protectors.

$18.74