Custom Ear Plugs for Shooting and Hunting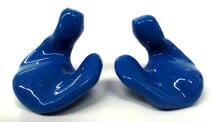 Professional Lab Custom Molded Ear Plugs for Shooting are professionally custom molded to fit your unique ears. These custom ear plugs for shooting require you to mail us impressions of your ears. Getting ear impressions is simple: we offer our Do-It-Yourself Impression Kit with every custom shooting plug purchase, which allows you to make your own ear impressions at home. Alternatively, you may visit your local audiologist to have ear impressions made for a fee.

These custom earplugs provide the best fit you can get from an ear plug, because each pair is custom made to exactly fit your ears. These plugs are also extremely comfortable, ideal for wearing for long hours at a time. Another advantage of full custom ear plugs for shooting is that these are the most durable ear plugs you can get; one pair can last for years.

We know custom molded shooting ear plugs can be expensive. If you're not yet ready to pull the trigger and go full-custom, check out these DIY custom ear plugs.

Looking for an even more advanced solution? Check out our Hunters Hearing Aids for earplugs that can also amplify safe sounds. The hearing enhancement options currently available for shooters are incredible.
---
Westone Hunter Passive Style 39 Custom Ear Plugs (NRR 4, IPIL Rated)

Westone Hunter Passive custom ear plugs are made specifically for hunting environments where a low number of shots are fired. At low volumes, Hunter Passive offers almost no resistance to sound, letting you clearly hear voices and even subtle game sounds. Then, when any loud noise arrives at your ear, the non-linear acoustic filters instantly and reliably reduce the volume to which you are exposed, by up to 26.7 dB.

$195.00

Westone DefendEar Style 47 Filtered Acoustic Ear Plugs (One Pair)

(NRR 21-28) Westone Model 47 high noise acoustic Filter Ear Plugs with convertible pop plug cord, lets you communicate in a high noise environment, while still retaining your hearing protection.

$179.00

Westone DefendEar Style 40 Custom-Fit Solid/Sleep Ear Plugs (NRR 24-29) (One Pair)

(NRR 29) Westone Model 40 multipurpose ear plugs are an excellent choice for any high noise environment, and highly recommended for sleeping with a snoring bed partner.

$169.00

Perfect Fit™ CSVP Model Sonic Valve II Custom Shooting Ear Plugs (One Pair)

PerfectFit™ CSVP Model Custom Shooting ear plugs feature the Sonic Valve II Baffle Assembly designed to provide protection against the sound of gunfire and other impulse noises, while letting you hear voices between shots.

$159.00

Perfect-Fit CNP Model Custom Noise Protection Ear Plugs (One Pair)

Perfect-Fit™ noise protection ear plugs are made with your choice of form to suit virtually any noise environment and personal preference.

$139.00

Perfect-Fit CBVP Model Custom Braker-Vented Noise Reduction Ear Plugs (One Pair)

Perfect-Fit™ braker vented ear plugs help prevent that uncomfortable "plugged up" feeling. Braker vented ear plugs let the inner ear breathe and let you hear normal speech while protecting you from dangerously loud noise.

$139.00