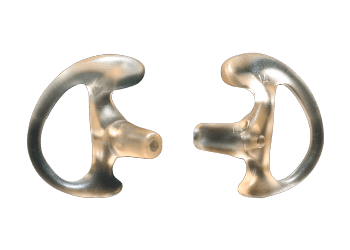 This item has been discontinued. Don't panic - go back to Surefire Ear Pro for a great replacement.
SureFire EarPro CommEar® Comfort Model 2-Way Radio Earpiece Features:
Permits covert monitoring of radio communications
Open design does not block ear canal, permits hearing ambient sounds and conversation for optimal situational awareness
Made from soft, hypo-allergenic, medical-grade polymer
Durable and long lasting (up to 6 months or more with proper care)
Ergonomic shape for comfortable all-day wear while keeping earpiece securely in place
SureFire EarPro CommEar® Comfort Model 2-Way Radio Earpiece fits comfortably in the hollow of your outer ear and channels radio communications directly into your ear canal - clearly and covertly. CommEar is designed with a low profile ergonomic design that lets you use them while wearing a helmet, mask, or hat. CommEar can even be worn while using a telephone or headset. CommEar earpieces don't block the ear canal, so even when wearing them you will still enjoy near-normal hearing of ambient sounds. CommEar will not compromise your situational awareness.

CommEar is Made in the USA from an ultra-soft and durable hypoallergenic polymer. The ergonomic design makes CommEar comfortable even for extended use. The durable polymer will last for up to 6 months or more, with proper care.

CommEar is provided in three sizes and both left and right sides, to fit nearly everyone's ears and preferences.