Home > Speech Enhancement

Speech Enhancement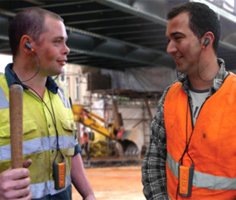 Ear plugs and ear muffs, the standard hearing protection devices (HPDs) in use today, offer excellent protection for hearing, but the protection usually comes at a price: the HPD wearer cannot hear or understand the voices of co-workers.

All too often the solution of choice is to remove the HPD. That method exposes the HPD wearer to immediate and long-term hearing damage.

The modern solution to this problem exists in the form of electronic earplugs and ear muffs. In-ear hunting hearing aids are hearing protectors with built-in amplifiers made for shooters traditionally, but they also serve the industrial and construction worker quite well. These devices work like a regular hearing aid, but with the addition of two features: one, in-ear hunting hearing aids have a tip that is designed to block ambient sound from entering the ear canal, and two, these devices have an amplifier that turns off automatically when they hear a dangerously loud sound.

In this category are also the Sensear brand electronic ear plugs and ear muffs, and these are specifically engineered to let the wearer have a face to face conversation in noise environments up to about 120 dB without removing the devices. These are more expensive, but well worth the added cost for those who need this kind of solution.


Hunting Hearing Aids

In-ear hunting hearing aids are available in behind the ear or in the canal models. These devices amplify sound so you can hear better, but they automatically limit the volume to a safe level when a dangerously loud sound comes in contact.



Face-to-Face High Noise Communications

Face-To-Face Communication Ear Muffs allow industrial workers to easily speak to and hear one another in high noise environments without ever needing to remove their hearing protection ear muffs. No microphones or radios are required, so workers may communicate naturally, face-to-face.



Hearing Aid Accessories

Although we do not sell medical hearing aids, a number of the products we sell call for treatment as if they were regular hearing aids. Accordingly, we carry a number of hearing aid accessories to keep your in-ear devices clean and dry between uses.