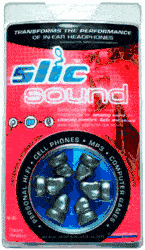 SlicSound Earbud Enhancers are designed to make your standard earbud-style earphones more effective.

SlicSound Earbud Enhancers fit over the tips of most standard earbuds, providing a better, more comfortable fit, keeping the earbuds from falling out of your ears, and also helping to channel sound directly into the ear canal, improving sound quality.

Includes 3 pairs of tips: 1 pair small, 1 pair medium, and 1 pair large.