Sensear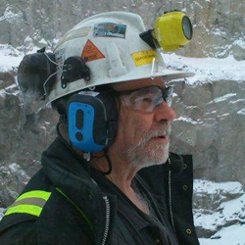 All Sensear headsets incorporate the unique and powerful SENS™ technology. Using a proprietary algorithm, SENS™ automatically differentiates between dangerous noise and human speech, enhancing the speech so you hear clearly, while suppressing the noise. The result is an incredibly clear face to face communications capability in high noise environments up to 95 dB. When wearing a Sensear SmartMuff or SmartPlug headset, you will not feel the need to remove your protection to try and understand what someone is saying, or what is coming across the loudspeaker system.

Sensear headsets are all volume limited to a maximum of 82 dB at the ear inside the headset, making them a good choice for use in OSHA and MSHA regulated workplaces. Sensear also offers a variety of Intrinsically Safe certified models for use in explosive environments.

Whatever communications method you need, Sensear has a model for you, including face to face in high noise, two-way using a wired connection to your exisiting radios, two-way using a built in two way FM radio (up to 50 meter range,) and/or cell phone via wireless bluetooth connectivity.

Many Sensear headset models are now programmable, making the allocation and selection of radio channels your teams use, simple and intuitive.

Sensear headsets are rechargeable, comfortable and ergonomic. The controls feature ghost voices that tell you what is happening right in your ears, while you change settings, so you never need to remove your protection to make settings adjustments.

Sensear understands that you need a variety of styles and that you may already have a large investment in two way radios, so Sensear headsets are available in headband, neckband and hardhat styles, and connecting cables are available for virtually any existing two way radio (some may have to be special built.)

We understand that your communications needs can be challenging. If you do not find the perfect Sensear headset below, give us a chance to help. Email us at , or give us a call during working hours and we will do our best to help you solve your challenging communications problem: 918-478-5500.


---
See and Order Sensear Products Below:
Sensear SmartMuff and SmartPlug Accessories and Replacement Parts

Get the Sensear accessories and replacement parts you need, including replacement tips, right here. If you need a part we do not show, let us know and we will do our best to find exactly what you need.



Sensear SmartMuff SM1P-Ex Intrinsically Safe Communications Headset (NRR 27)

(NRR 27) Sensear SM1P-Ex allow for communications via two-way radio, Bluetooth®, short-range radio, or face-to-face. Sens® Technology keeps speech and clear while suppressing hazardous noise. Intrinsically Safe, approved for ATEX and IECEx Exposive Environments.



Sensear SmartMuff SM1P-ExDP Dual Protection Intrinsically Safe Communications Headset (NRR 31)

(NRR 27) Sensear SM1P-ExDP allow for communications via two-way radio, short range, Bluetooth®, or face-to-face. Sens® Technology keeps speech and clear while suppressing hazardous noise. Intrinsically Safe, approved for ATEX and IECEx Exposive Environments. Dual Protection provides enhanced noise blocking.



Sensear SM1P ISDP Intrinsically Safe Dual Protection Communications Headset (NRR 31)

(NRR 31) Sensear SM1P ISDP headsets let you communicate face to face, or via two way radios (using a patch cable), built in short range FM programmable radio, or bluetooth connectivity to your phone. For Intrinsically Safe high noise environments.



Sensear SM1PW ISDP Intrinsically Safe Dual Protection Communications Headset - Bluetooth/Short Range Only (NRR 31)

(NRR 31) Sensear SM1PW ISDP headsets let you communicate face to face, or via built in short range FM programmable radio, or bluetooth connectivity to your phone. The same device as the SM1P ISDP, but with no two-way radio connectivity. For Intrinsically Safe high noise environments.



Sensear SmartMuff SM1P Communications Headset (NRR 27)

(NRR 27) Sensear SM1P headsets let you communicate face to face, via your two way radios, using a patch cable, via built in short range FM programmable radio, or via bluetooth connectivity to your phone, all in high noise environments.



Sensear SM1P IS Intrinsically Safe Communications Headset (NRR 27)

(NRR 27) Sensear SM1P IS headsets let you communicate face to face, via your two way radios, using a patch cable, via built in short range FM programmable radio, or via bluetooth connectivity to your phone, all in high noise intrinsically safe environments.



Sensear SM1B Basic Communications Headset - Two-Way Radio Only (NRR 27)

(NRR 27) Sensear SM1B headsets let you communicate face to face or via your two way radios. Get only the most critical features. Improves situational awareness with 360-degree hearing and speech enhancement in face-to-face communications.



Sensear SM1B IS Basic Communications Headset - Two-Way Radio Only (NRR 27)

(NRR 27) Sensear SM1B IS headsets let you communicate face to face or via your two way radios, in challenging intrinsically safe environments. Get only the most critical features. Improves situational awareness with 360-degree hearing and speech enhancement in face-to-face communications.



Sensear SmartMuff SM1PBS01 Smart Group Communications Listen Only Follower Headset

(NRR 25) Sensear Smart Group Follower Headset is a receive-only headset which you can add to your existing group pack to get the exact number of headsets you need. You will need at least one group leader headset, which you can get with either the small or large group pack, or which you can purchase separately.

For more information see Sensear Smart Group communications systems for plant tours and training sessions in high noise environments.



Sensear SmartMuff SM1PBSGL01 Smart Group Communications Large Group Pack (NRR 25) (1 Leader + 10 Follower Headsets)

(NRR 25) Sensear SmartMuff Smart Group Communications Large Group Pack includes 10 receive only headsets for followers and one group leader two-way headset. Together, this Sensear communications system gives your tour and training class members the ability to clearly communicate in high noise environments, while remaining protected from dangerously loud noise up to 110 dB.



Sensear SmartMuff SM1PBSGS01 Smart Group Communications Small Group Pack (NRR 25) (1 Leader + 5 Follower Headsets)

(NRR 25) Sensear SmartMuff Smart Group Communications Small Group Pack includes 5 receive only headsets for followers and one group leader two-way headset. Together, this Sensear communications system gives your tour and training class members the ability to clearly communicate in high noise environments, while remaining protected from dangerously loud noise up to 110 dB.



Sensear SmartMuff SM1PBT001 Smart Group Communications Two-Way Leader Headset

(NRR 25) Sensear Smart Group Leader communication headset is a two-way headset which you can add to your existing group pack if you like, to enable team leadership by more than one individual, or to replace an existing leader headset which has gone missing or damaged.

For more information see Sensear Smart Group communications systems for plant tours and training sessions in high noise environments.



Sensear SmartMuff SM1PW Communications Headset - Bluetooth/Short Range Only (NRR 27)

(NRR 27) Sensear SM1PW headsets let you communicate face to face, or via built in short range programmable two way FM radio, or via bluetooth connectivity to your phone, all in high noise environments.



Sensear SmartMuff SM1RB001 Radio Powered Communications Headset (NRR 25)

(NRR 25) Sensear SmartMuff SM1R Communications Headsets let you communicate face to face as well as letting you plug into your existing two way radio for clear communications in noise environments up to 110 dB. And, because SM1R headsets are powered by your two-way radio, there are no batteries in the headset to recharge or fail just when you need them.



Sensear SmartMuff SM1RISB1 Radio Powered Intrinsically Safe Communications Headset (NRR 27)

(NRR 25) Sensear SM1RIS Intrinsically Safe Certified Communications Headsets let you communicate face to face in high noise environments up to 95 db without the need to remove the muffs as well as plugging into your existing two way radio for clear communications in noise environments up to 110 dB. And, because SM1RIS headsets are powered by your two-way radio, there are no batteries in the headset to recharge or fail just when you need them.



Sensear smartPlug R Two-Way Radio Compatible Hearing Protection for High-Noise Environments (NRR 31)

(NRR 31) Sensear smartPlug R provides hearing protection with high-noise communications capabilities and clear 360-degree hearing. The smartPlug R plugs into your two-way radio and requires no battery. Features a larger, more ergonomic PTT module and a detachable ear piece assembly.



Sensear smartPlug R IS Intrinsically Safe Two-Way Radio Compatible Hearing Protection for High-Noise Environments (NRR 31)

(NRR 31) Sensear smartPlug R IS provides intrinsically safe hearing protection with high-noise communications capabilities and clear 360-degree hearing. The smartPlug R plugs into your two-way radio and requires no battery. Features a larger, more ergonomic PTT module and a detachable ear piece assembly.



Sensear SmartPlug SMPLUG03 With SENS™ Face-to-Face + Two Way Radio Communications (NRR 31)

(NRR 31) Sensear Smart Plug Model SMPLUG03 With SENS™ Face-to-Face + Two Way Radio Communications lets you communicate clearly in loud environments without removing your ear plugs. Smart Plugs are ideal for use with respirators, welding helmets and in hot noisy environments.



Sensear SmartPlug SMPLUG030001 With SENS™ Face-to-Face + Two Way Radio + BlueTooth + Built-in Short Range Two-Way Communications (NRR 31)

(NRR 31) Sensear Smart Plug Model SMPLUG03 With SENS™ Face-to-Face + Two Way Radio + BlueTooth + Built-in Short Range Two-Way Communications lets you communicate clearly in loud environments without removing your ear plugs. Smart Plugs are ideal for use with respirators, welding helmets and in hot noisy environments.



Sensear Smart Plug Model SP2NB001 With SENS™ Face-To-Face + Two-Way Radio Communications (NRR 28) Used in Like New in Open Box with all Original Accessories and 3 Pair Tip Assortment

Sensear Smart Plug Model SP2NB001 With SENS™ Face-To-Face + Two-Way Radio Communications (NRR 28) Used in Like New in Open with all Original Accessories and 3 Pair Tip Assortment



Sensear Smart Plug Model SP2NB001 With SENS™ Face-To-Face + Two-Way Radio Communications (NRR 28) Used in Like New in Open with all Original Accessories and 3 Pair Tip Assortment

Sensear Smart Plug Model SP2NB001 With SENS™ Face-To-Face + Two-Way Radio Communications (NRR 28) Used in Like New in Open with all Original Accessories and 3 Pair Tip Assortment



Sensear Smart Plug Model SP2NB001 With SENS™ Face-To-Face + Two-Way Radio Communications (NRR 28) Used in Like New in Open with all Original Accessories and 3 Pair Tip Assortment

Sensear Smart Plug Model SP2NB001 With SENS™ Face-To-Face + Two-Way Radio Communications (NRR 28) Used in Like New in Open with all Original Accessories and 3 Pair Tip Assortment



Sensear Smart Plug Model SP2NB001 With SENS™ Face-To-Face + Two-Way Radio Communications (NRR 28) Used in Like New in Open with all Original Accessories and 3 Pair Tip Assortment

Sensear Smart Plug Model SP2NB001 With SENS™ Face-To-Face + Two-Way Radio Communications (NRR 28) Used in Like New in Open with all Original Accessories and 3 Pair Tip Assortment



Sensear Smart Plug Model SP2NB001 With SENS™ Face-To-Face + Two-Way Radio Communications (NRR 28) Used in Like New in Open with all Original Accessories and 3 Pair Tip Assortment

Sensear Smart Plug Model SP2NB001 With SENS™ Face-To-Face + Two-Way Radio Communications (NRR 28) Used in Like New in Open with all Original Accessories and 3 Pair Tip Assortment



Sensear Smart Plug Model SP2NB001 With SENS™ Face-To-Face + Two-Way Radio Communications (NRR 28) Used Condition in Open Box with 2 Pairs of Tips (Small and Medium) Missing Wall Charger with US Plug but has International Plug Adapter Kit

Sensear Smart Plug Model SP2NB001 With SENS™ Face-To-Face + Two-Way Radio Communications (NRR 28) Used Condition in Open Box with 2 Pairs of Tips (Small and Medium) Missing Wall Charger with US Plug but has International Plug Adapter Kit