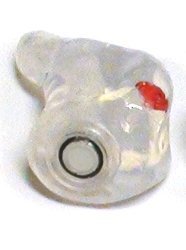 This item has moved. Please purchase by the pair here.
Perfect-Fit™ Model ER Custom Professional Musician Ear Plugs, featuring acoustic filters from Etymotic Research are one of the finest hearing protection products currently available for the professional musician or for anyone needing to be able to hear clearly but at a reduced volume. The ER-9, ER-15, or ER-25 filters are embedded in custom ear molds for a natural sound plug with a perfect fit, and because the filters are interchangeable, you can choose from three different levels of sound reduction to get just the sound reduction you need to listen comfortably while still maintaining your peak performance. ER series plugs and filters are not just for musicians. Dentists and dental assistants, factory supervisors, lab and computer technicians, pilots, and many others who must be able to hear clearly to do their jobs properly can find great relief via these natural sound acoustic filters. The high fidelity, flat response of the ER series filters means that they turn down the volume without distorting the quality of the sound you hear. With the ER 9, ER 15 and ER 25 filters, you can better understand conversations in noisy places, reduce your noise-induced fatigue, and protect your hearing -- all while still hearing clearly enough to carry on a conversation!

Which sound filters are right for me?

To choose the right filter, first consider your situation. Most musicians and music teachers choose the ER-15 filters. We recommend the ER-9 filters for many professionals including dentists, factory supervisors, construction foremen and technicians. The numbers refer to the average reduction in dB, so the ER-9 filters will reduce the volume by about half. The ER-15 will reduce the volume by about 3/4, and the ER-25 filters will reduce the volume by about 7/8. One especially nice thing about the ER series filters is that you can later purchase alternative filters for your existing ear molds. If you find that you need more or less attenuation than you are getting with your first set of filters, simply try another set. The filters never wear out, so they are a great value, and since the molds are made to fit just you, they are the most comfortable natural sound solution available anywhere. Additionally, we also offer a "solid filter," an optional additional purchase. Use these filters any time you like to temporarily convert your full custom natural sound plugs to a set of normal custom ear plugs, ideal for sleep, study, and travel.