Home > Phone & 2-Way Headsets

Phone & 2-Way Headsets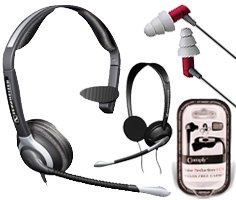 Below you will find telephone headsets, both wired and blue-tooth, cell phone headsets, also both wired for ipod listening and cell phone use, as well as blue tooth connected.

We also offer computer headsets for gaming and communications via VOIP, and accessories to go with all the above.

If you need any product we do not have, please contact us and we will do our best to help you solve your problem.


Telephone Call Center Headsets

These telephone headsets work with standard telephones (not cell/mobile phones). They offer hands-free listening, some corded and some wireless, all with good microphones and excellent sound quality.