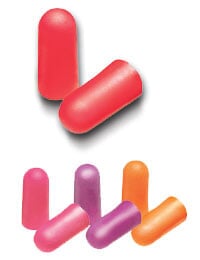 This item has been discontinued. Don't panic! Go back to view all Industrial Foam Ear Plugs.
Ear Plug Information - Quick Look
Brand
NRR
Material
Softness
1 = Softest
4 = Stiffest
Peltor
32
UF
2
Or try out all of our foam ear plugs:
Try 'Em All Assortment Pack
This product can be ordered in single pairs, full boxes, or cases.
Please scroll down to see pricing for all the quantity options available.

Peltor Next Nitro UF foam ear plugs from Peltor Next come in eye shocking orange, red, pink, and purple pairs. All four vibrant colors are randomly mixed in each box! The bright colors are fun to wear, which can help ensure they get worn - as the old saying goes, the best hearing protector is the one workers will actually wear. The bright colors also make compliance a snap.

Peltor Next Nitro earplugs have a tapered shape that means easy insertion. A quick roll-down and the plugs are ready to insert. The soft foam creates a canal hugging seal inside the ear. Because of the ultra-soft foam design, these ear plugs remain comfortable all day. Peltor Next Nitro offers great NRR 32 protection from noise. This makes these ear plugs a solid choice for industrial applications as well as for fireworks, sleeping, snoring, mowing the lawn, and any activity during which loud noise may potentially cause hearing damage.


---
See Also
---