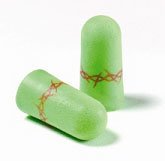 This item has been discontinued. Don't panic! Go back to view all Foam Ear Plugs.

This product can be ordered in single pairs, full boxes, or cases.
Please scroll down to see pricing for all the quantity options available.

Peltor Next Tattoo UF foam ear plugs are the cutting edge in hearing protection style. These soft foam plugs with a popular tapered shape fit easily and comfortably in your ear. With slick barbed wire graphics and a neon green color, plus a noise-jamming NRR of 32, Tattoo Plugs offer great protection, with a great look.

Looking awesome is more than just a neat perk. The best hearing protection is always the one workers will actually wear. Cool-looking ear plugs are easier to remember and more fun to wear, helping keep you and your employees safe at work. Tattoo earplugs are perfect for high-noise industrial environments, as well as for hazardously noisy activities such as NASCAR races, sporting events, riding your motorcycle, etc.