Home > Passive Shooting Ear Muffs

Passive Shooting Ear Muffs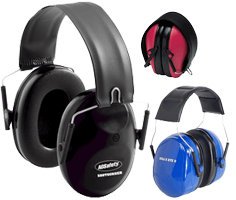 Ear muffs are the hearing protective devices (HPDs) most preferred by shooters. Although earplugs are generally more effective and less cumbersome than ear muffs for shooters, the ear muffs are easily removed between rounds and they can readily be seen to be in place, which makes rule enforcement easier on shooting ranges.

Any noise protection ear muffs can be used to protect against the sounds of gunfire, but the models listed below are made specifically for shooters. These tend to be shaped for less interference with the gun stock when shooting, and/or with a higher rating to deal with the extreme noise conditions frequently encountered in shooting, especially when shooting big-bore weapons.

TIP: For the highest noise protection available, use dual protection, that is a highly rated earplug (NRR 29+) worn at the same time under a highly rated ear muff (NRR 30+). This combination will give you the greatest noise protection available at any price.


Pro-Ears Ultra 33 Premium Headband Model Ear Muffs (NRR 33)

(NRR 30)

Top of the line passive ear muffs from Pro Ears. These comfortable non-electric ear muffs offer some of the the best protection from dangerous sound you can get in any ear muff.

AOSafety Shotgunner Neckband Model Ear Muffs (NRR 19)

(NRR 19)

The same great slimline Shotgunner ear muffs in a Behind-The-Head Style for maximum comfort wear with a hard hat, ballcap, cowboy hat, or any other kind of headgear.

AOSafety Shotgunner Folding Headband Model Ear Muffs (NRR 21)

(NRR 21)

At just 7 ounces, Shotgunners are one of the world's lightest slimline foldup ear muffs. Available in a choice of three colors: black, olive green, and red, the combination of features makes Shotgunner Ear Muffs ideal for everyone from children of about 3 all the way up to average size adults.

Remington M31 Premium Headband Model Ear Muffs (NRR 30)

(NRR 30)

Soft foam ear cups pivot independently on the wide, padded headband for a comfortable fit and tight protective seal.

Remington MP22 DiElectric Headband Model Ear Muffs for Women (NRR 22)

(NRR 22)

Remington MP22 is a stylish women's ear muff with an adjustable ventilated headband and ear cups with a gunstock cut-out in a fashionable pink color.

AOSafety Bulls-Eye 9 Headband Model Ear Muffs (NRR 25)

(NRR 25) AOSafety Bulls-Eye 9 headband model ear muffs are a lightweight ear muff with standard ear cups.



Rifleman PXS Folding Ear Muffs (NRR 19)

(NRR 19) Rifleman Folding Ear Muffs fit babies through adults and offer a very economical choice in folding earmuffs, for all moderate noise applications including concerts, motorsports and small caliber shooting.