Home > Flents Soft Flexible Vinyl Swimming Ear Plugs

Flents Soft Flexible Vinyl Swimming Ear Plugs (NRR 24)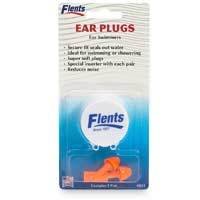 This item has been discontinued.
See our other Reusable Swimming Earplugs.

Flents Vinyl Swimming Ear Plugs provide good water and noise protection (NRR 24) in a bright orange reusable earplug. These comfortable, inexpensive swimming ear plugs are a great choice for children over seven and adults. The orange color makes it easy to see if the kids still have the plugs in, and they are easier to find if you drop them. Each pair is packed individually with a handy carrying case. Not recommended for those with smaller than average ear canals.