Home > Sleep > Noise Masking & Speech Privacy

Noise Masking & Speech Privacy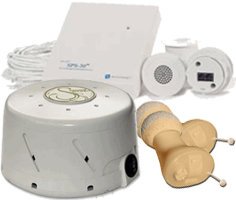 "Noise masking" refers to any device that produces a white noise sound to prevent someone from hearing voices or other sounds in the environment. Millions of people sleep with a fan at night because it drowns out snoring and other sounds. Noise masking is completely natural and harmless, but just as it may take you a couple of nights to get used to the fan running, we similarly recommend that you try your white noise machine on a low setting at first, increasing the volume a little at a time each night so you can have some time to adjust to this change in your environment. Once you are accustomed to white noise, you may find it hard to sleep without it.

Noise masking is a solution for business environments too, when you need to protect the confidentiality of conversations. Just remember to put the masking sound in the area where the listeners are - not where the conversation is taking place.


TIP: Is a white noise machine right for you? Try turning on a box fan at night and see if the noise it makes will do the trick. If this works, you can replace the fan with a white noise machine. (A fan is more expensive to operate and doesn't offer the selection of different masking sounds, or the fine control over volume that you get with a white noise machine.)
---
Desktop White Noise Machines

We offer a wide selection of white noise machines including dual-voltage models designed for travel inside and outside the U.S. White noise for sleeping is a great way to block snoring. Try a white noise machine in the bedroom to sleep better, or to help improve concentration at the office.



Nightingale White Noise Smart Home Sleep System by Cambridge Sound Management (Two Pack Complete) (FREE Ground Shipping!)

Cover your bedroom in one of 15 different sound blankets with this smart at-home white noise system. Nightingale units plug in to create a blanket of custom-tailored white noise, blocking nighttime noises and helping with both tinnitus and snoring from adjacent rooms. Sleep better every night. As seen on Kickstarter.

$249.00

Qt™ Systems for Speech Privacy and Office Noise Management

Qt™ ceiling mounted systems for open cubicle spaces over 500 square feet in area, and for installations in which treatment of 4 or more offices is desired.



Sonet QT Noise Masking and Speech Privacy System

Sonet QT™ is the only system designed specifically to treat cubicle spaces. Sonet is also ideal for high-wall cubicles, small offices, waiting rooms, treatment rooms and hallways, as well as bedrooms and home offices.



NewSound TI-100 In-Ear White Noise Sleep Aid (One Pair)

NewSound TI-100 In-Ear White Noise Sleep Aid offers a new level of comfort and performance whether you are trying to sleep with a snoring partner or deal with other disturbing night-time noises. One pair. As Featured in The New Yorker February, 2016.



1-9
$389.00
10+
$350.00
Save 10%

NewSound TI-100-LT In-Ear White Noise Sleep Aid and Tinnitus Masker (One Pair)

NewSound TI-100-LT In-Ear White Noise Sleep Aid and Tinnitus Masker offers a new level of comfort and performance for sound masking during sleep. This LT model is also especially highly recommended for Tinnitus masking. One pair.

$249.95
---
Noise masking devices, also referred to as white noise machines, sound therapy devices, speech privacy systems and white noise CDs, all work on the same principles. Noise masking helps in two ways: first, the presence of the sound in your environment causes your hearing to be less acute. In an extremely quiet house, you can hear water dripping in the bathroom 50 feet away. Add just a little sound to the environment and you can no longer hear the drips.

The second way that noise masking works is by being louder than the noise that was bothering you. For that to be effective, the masking sound must be less bothersome than is the bothersome noise. For this reason, we recommend more expensive solutions. Cheap white noise machines use short digital loops that quickly become irritating. More expensive machines use well engineered longer loops that make their sounds appear to be completely random, and which are therefore, much less likely to irritate the listener.

Just remember that to block out sound with noise masking, you need your white noise source to be next to you -- not next to the sound you're trying to block out. The closer the masking sound is to your ear, the more effective it will be. This is why the most extreme noise masking devices available actually fit inside the ear canal!