Home > Howard Leight by Honeywell Multi-Max UF Foam Ear Plugs (NRR 31) (Box of 200 Pairs)

Howard Leight by Honeywell Multi-Max UF Foam Ear Plugs (NRR 31) (Box of 200 Pairs)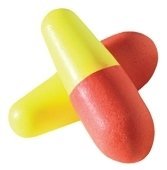 This item has been discontinued. Don't panic! Go back to view all Howard Leight Brand Products.

Howard Leight by Honeywell Multi-Max UF foam earplugs offer flexibility, protection and economy in hearing protection. Multi-Max's two-sizes-in-one design leverages both ends of the ear plug, improving individual fit while simplifying inventory. Each user may select the size that fits best simply by turning the ear plug around and trying each end. No single-ended traditional ear plug can offer workers the ability to select the correct size on the fly like this. The result is a hearing protection solution that fits workers of all sizes very well, while saving money.

Multi-Max isn't just clever - it is also comfortable to wear. This earplug offers an excellent fit with its self-adjusting polyurethane foam. The skin is smooth and soil-resistant, staying softer and cleaner for longer.