ASTI Adaptive Sound Technologies, Inc.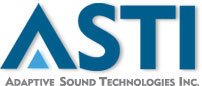 Adapting Audio and Improving Lives.

Adaptive Sound Technologies, Inc. was founded in 2008 and is now a leading supplier of sound masking machines and adaptive audio products. The company's mission, "Adapting audio and improving lives," has been the driving force behind its innovation and product development.


Headquartered in the heart of Silicon Valley and its dreams realized by engineers from some of the best technology companies, ASTI has developed best-selling sound machines that redefine the science of sleep. The innovations in the areas of adaptive audio, ambient noise analysis, and system design has earned ASTI five patents and additional patents pending.
---