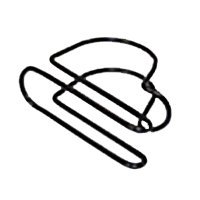 This item has been discontinued. You can find an excellent replacement in our Ear Muff Accessories.

This metal belt clip - Hyskore Part Number 30194-5 - is the perfect accessory to let you keep your earmuffs handy wherever you go. Attach the clip to your belt, and then just hang your earmuffs there so they're ready for use at a moment's notice.

Hyskore Metal Belt Clip Features:
Excellent for keeping your hearing protection ear muffs with you in between uses.

Sturdy metal construction ensures this belt cip won't warp or break with frequent normal usage.

Works with all Hyskore earmuffs, and almost all other brands of headband-style earmuffs, too.