Howard Leight HL400 Ear Plug Dispensers and Refills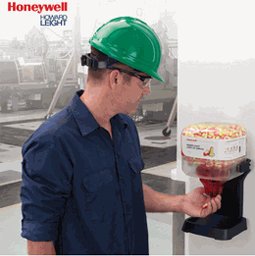 Howard Leight HL400 Ear Plug Dispensers are a quick, flexible, and economical way to quickly dispense ear plugs in your workplace. The HL400 dispenser may be left free-standing, or mounted to a wall or table near the door. The dispensers come with a canister of the Howard Leight ear plugs of your choice (several types to choose from!), and refills are available in both canisters and zip-top bags.

These dispensers contain unwrapped pairs of foam ear plugs. Dispensers come with 400 pairs of plugs. Refill canisters also contain 400 pairs of plugs each. The HL400 dispensers are easy to use and simple to refill.

Save money and time, dispense ear plugs efficiently, and do away with all that plastic poly bag waste with these excellent and affordable ear plug dispensers from Howard Leight.

Get the dispenser base here!


---
Howard Leight HL400-MAX-REFILL MAXIMUM Refill Canister (NRR 33) (Case of 2 Canisters, each with 400 Pairs)

(NRR 33) This is the Maximum ear plug refill canister for the Howard Leight HL400 dispenser. These canisters are very quick and easy to swap out. Each case includes two canisters, each with 400 pairs of unwrapped Maximum ear plugs.



1-3
$115.57
4+
$108.35
Save 6%

Howard Leight HL400-LPF-REFILL Maximum Lite Refill Canister (NRR 30) (Case of 2 Canisters, each with 400 Pairs)

(NRR 30) This is the Maximum Lite ear plug refill canister for the Howard Leight HL400 dispenser. These canisters are very quick and easy to swap out. Each case includes two canisters, each with 400 pairs of unwrapped Maximum Lite ear plugs.



1-3
$103.51
4+
$97.04
Save 6%

Howard Leight HL400-LL-REFILL LaserLite Refill Canister (NRR 32) (Case of 2 Canisters, each with 400 Pairs)

(NRR 32) This is the Laser Lite ear plug refill canister for the Howard Leight HL400 dispenser. These canisters are very quick and easy to swap out. Each case includes two canisters, each with 400 pairs of unwrapped Laser Lite ear plugs.



1-3
$103.51
4+
$97.04
Save 6%

Howard Leight HL400-FF-REFILL FirmFit Refill Canister (NRR 30) (Case of 2 Canisters, each with 400 Pairs)

(NRR 30) This is the FirmFit ear plug refill canister for the Howard Leight HL400 dispenser. These canisters are very quick and easy to swap out. Each case includes two canisters, each with 400 pairs of unwrapped FirmFit ear plugs.



1-3
$110.88
4+
$103.95
Save 6%

Howard Leight HL400-XTR-REFILL X-Treme Refill Canister (NRR 32) (Case of 2 Canisters, each with 400 Pairs)

(NRR 33) This is the X-Treme ear plug refill canister for the Howard Leight HL400 dispenser. These canisters are very quick and easy to swap out. Each case includes two canisters, each with 400 pairs of unwrapped X-Treme ear plugs.



1-3
$90.92
4+
$85.24
Save 6%

Howard Leight HL400 Ear Plug Dispenser Frame

The Howard Leight HL400 Ear Plug Dispenser puts the power of choice in your hands. Choose your favorite Howard Leight foam ear plugs. Choose a wall mount or a horizontal mount. Choose to refill with plug'n'play canisters or refill bags. All these options make the HL400 the smart choice for your workplace.



1-9
$35.95
10+
$33.00
Save 8%