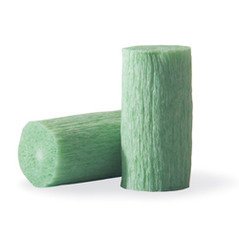 This item has been discontinued. Don't panic! Go back to view all Howard Leight Brand Products.

Howard Leight by Honeywell Matrix Composite Foam Ear Plugs are a unique alternative to conventional roll-down foam ear plugs. Especially recommended for lower noise environments, from about 100 dB up to about 114 dB. With even sound attenuation across the frequencies, these ear plugs let you hear a little more naturally than you can with most foam plugs. No other ear plug is quite like Matrix.

Matrix is comfortable to use and wear. The outer skin of each ear plug is gentle on the ears, and the foam material doesn't need to be held in place while it expands after insertion, as is required with other foam plugs. Matrix makes it faster and easier to get that crucial, proper fit necessary for the full rated noise reduction to take effect.

Howard Leight Matrix Ear Plug Features:
Patented no-roll design makes insertion fast and easy
Smooth outer skin and reduced diameter provide long-term comfort
Delivers instant protection upon proper insertion - no need to wait for foam to expand
Uniform attenuation profile blocks out noise while voice frequencies can be heard more naturally
Multiple attenuation levels for targeted attenuation
Available in the low-cost eco-friendly dispenser refill packaging
Note: Now only available in Green NRR 27 style.