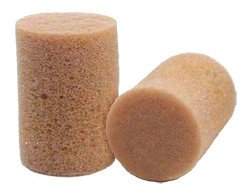 This item has been discontinued. Don't panic! Go back to view all Foam Ear Plugs in Box Quantities.

E-A-R Classic PVC foam beige ear plugs are identical to the tried and true standard in industrial foam ear plugs, but in a less noticeable beige color. Though not as soft as UF foam ear plugs, E-A-R Classic PVC beige foam ear plugs are easier to insert because they are stiffer, and after a few minutes of contact with the ear canal, they soften for surprising comfort.

Stiffer foam plugs really are easier to insert. A stiffer earplug is simpler to roll down into a uniform, compact, tight cylinder before insertion. That uniform cylinder is necessary to ensure the ear plug resumes the proper shape once it expands in the ear. Some people even find that a stiffer earplug feels more comfortable to them; everyone's ears are different. But these E-A-R Classic plugs do soften after they come into contact with the warmth of the ear canal, relaxing for a fit that feels nice and soft while remaining very effective at sealing out noise.

At NRR 29, Classic Beige blocks enough noise to be suitable for industry, as well as for concerts, clubbing, sleeping, and more.