Home > E-A-R Push-Ins SofTouch No-Roll Foam Ear Plugs Corded (NRR 31) (Case of 2000 Pairs)

E-A-R Push-Ins SofTouch No-Roll Foam Ear Plugs Corded (NRR 31) (Case of 2000 Pairs)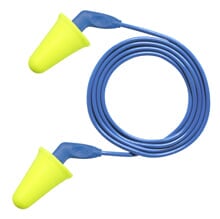 This item has been discontinued. Don't panic! Go back to view all No-Roll Push-In Foam Ear Plugs.

E-A-R Push-Ins SofTouch foam ear plugs, at NRR 31, offer the Highest NRR of any Push-Ins product. The tapered design fits most people easily, safely, and comfortably.

No-Roll plugs feature a central stem that lets you simply push the plugs into your ears with no need to roll the foam before insertion. As a result, these plugs are simple and easy to use, and more hygienic because you never have to touch the foam with your fingers.


---
See Also
---