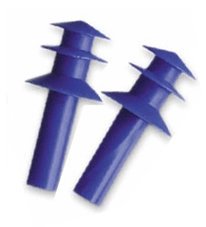 North Safety Com-Fit has been discontinued by the manufacturer. Tasco Tri-Fit ear plugs are a direct replacement for Com-Fit.

Tri-Fit even has the same NSN numbers. Best of all, Tri-Fit ear plugs are produced to the same specifications, so you know they will serve you perfectly -- and at a lower price!



North Safety Com-Fit Reusable ear plugs feature a multi-purpose triple flange design. These ear plugs are a large size (blue), making them perfect for those with larger ear canals -- however, Com-Fit ear plugs will likely not fit those with smaller ear canals. Com-Fit reusable earplugs are soft, pliable, and durable, and the silicone rubber triple-flange design forms a reliable seal against noise and water. Com-Fit reusable ear plugs can be easily cleaned with mild soap and water, for a long life.