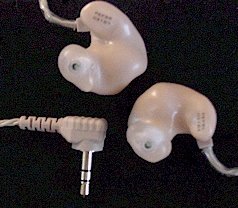 This item has been discontinued.
See the Current Challenger Models.

Challenger Pro 6500 is the perfect isolation earphone. The dual drivers deliver absolutely the best frequency response, with powerful, rich bass, full midrange and crisp clear highs and overtones to the maximum range of your hearing. The dual drivers mean you can choose the volume that suits you from barely audible to as loud as you like, with virtually no distortion. The 25+ dB of isolation means practically no environmental sounds can get through to get between you and the music you want to hear.

Challenger Pro 6500 is molded to fit entirely in the ear for maximum comfort during extended use. The removable wires feature a standard 2 pin micro connector and a memory wire section that helps keep the wires in place during vigorous activity.

Challenger Pro 6500 is designed to meet the most demanding requirements of the world class stage performer, but this truly great set of earphones is available to you for use with your iPOD, CD player or home stereo too. Now you too can enjoy this heavenly treat even in the noisiest environments. You have never heard your music until you have heard it through these earphones!