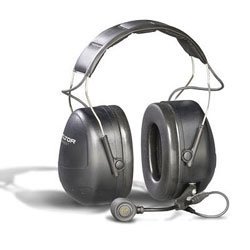 This item has been discontinued. Don't panic! Go back to view all 3M Brand Products.

Note: This item is built to order and is not returnable other than for defects which are covered by a one year manufacturer's warranty.


| | |
| --- | --- |
| This Item Name: | 3M Peltor Direct Wired High Noise Two-Way Radio Headset |
| This Item Part Number(s): | MT7H79A-C0060 |
| Separate PTT Adapter Required? | No. |
| ATEX Certified Intrinsically Safe? | No. |
| Works With Radio Models: | Motorola HT1000, MT2000, MTS2000, MTX838/2000/8000/9000, JT1000, Astro Digital, XTS2500/3000/3500/5000 |
| Available Color(s): | Black |
| Available Style(s)/NRR: | HeadBand |
3M Peltor MT Series High Noise Two-Way Radio Headsets General Information
3M Peltor MT Series High Noise Two-Way Radio Headsets are designed for use in the most demanding industrial and commercial high-noise environments. Whether you need a comm headset that will perform in your high noise environment in manufacturing, processing, heavy equipment operations, aboard ship, in or around aircraft, logging operations, and even in explosive environments found in milling, mining, oil, gas and coal extraction and processing, Peltor MT Series headsets offer the specific solution you need.
Peltor's quality and unparalleled feature set make the Peltor MT Series Headsets a top recommendation when you need reliable communications in high noise environments.
3M Peltor MT Series High Noise Two-Way Radio Headsets Features and Benefits:
Fully adjustable padded headband fits everyone comfortably even for extended wear.
Stainless steel spring arms are calibrated to provide the maximum noise protection while minimizing temple pressure.
Ear cups are extra deep with liquid/gel filled ear pads for maximum comfort and high level noise protection (NRR 25).
A durable noise cancelling directional boom mic lets you clearly communicate in high noise environments.
Strong and durable fixed downleads provide connectivity to your radio and support full two-way communications.
Choice of standard model headset that requires a separate PTT or a direct connect model that plugs directly into your radio.
ATEX Compliant, Intrinsically Safe Model MT7H79F-FM-50. (FL5230 PTT adapter is required and sold separately.)