More Ear Plug Accessories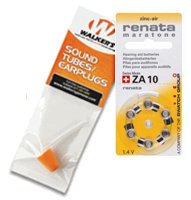 That's right - even more ear plug accessories can be found here!
What kind of ear plug accessories, you ask? We have neck cords for ER-20 musician's ear plugs, batteries for electronic ear plugs (and hearing aids, and electronic ear muffs...), replacement sound tubes for the full Walkers Game Ear line of BTE products, 2-way radio wireless neck loops, SureFire EarPro replacement parts, and more hard-to-find ear plug odds and ends. If you can't find it anywhere else, you can probably find it here.
And if you can't find it, let us know at and we will do our best to help you find the accessories or replacement parts you need for your favorite ear plugs. We are here to help!
---
Flare Audio ISOLATE Lanyard Accessory

This Flare Audio ISOLATE Lanyard is the perfect accessory for Flare Audio ISOLATE Solid Metal Ear Plugs. The lanyard allows you to sling the ear plugs around your neck for safe keeping between uses. Prevents plugs from getting dropped or lost. Works with regular ISOLATE and ISOLATE MiNi.

$7.99

Westone Style 89 Ear Mold for RIC (Receiver-In-Canal) Hearing Aids (One Earpiece)

Westone Style 89 Ear Molds are made specifically to convert your RIC hearing aids to perfectly fitting custom hearing aids.

$119.00

Etymotic Research ER-20 Neck Cord for ER-20 Musician Ear Plugs

Removable Neck Cord for ER-20 Musician Ear Plugs. Fits Large, Standard and Baby Blues Model ER-20 Ear Plugs.



1-49
$1.95
50+
$1.00
Save 49%

Crescendo Cord for Crescendo Ear Plugs (Transparent)

This handy cord accessory works with the full line of Crescendo ear plugs. The cord can be easily attached or removed at any time. Keep your ear plugs from getting lost!

$3.99

Rayovac 10A Premium 1.4v Zinc Air Hearing Aid Batteries (4x #10 batteries)

These batteries fit your Sleep-Eze, SnoreMasker Pro, Walkers Hybrid Duo CIC ear pieces, and other devices requiring #10 size hearing aid batteries.

1-9
$3.00
10+
$2.00
Save 33%

Walkers Replacement Sound Tube Earplug (NRR 22)

(NRR 22)

Walkers replacement sound tube earplug provides NRR 22 hearing protection. Fits all Walkers Game Ear BTE units.

1-2
$4.95
3-19
$4.25
Save 14%
20+
$3.50
Save 29%

Vibes High Fidelity Ear Plugs Replacement Tips (Pack of 3 Pairs)

Vibes Replacement Tips are soft silicone ear tips (a.k.a. "fit tips") for the Vibes High Fidelity Ear Plugs. Each pack includes three pairs of tips. Choose Large size tips so you can get the great fit you need to rock your Vibes ear plugs in comfort and style.

$5.95

Moldex BattlePlugs Ear Plug Replacement Tips (One Pair)

Replacement tips for Moldex BattlePlugs.



1-9
$4.64
10+
$4.10
Save 12%

Earasers Wax Guards (8-Pack)

These are wax guards for Earasers ear plugs. These wax guards keep ear wax from building up and clogging the filters on Earasers ear plugs. This keeps the ear plugs blocking the proper amount of noise. Includes 8 wax guards and insertion/removal tools.

$10.00

Earasers Cleaning Wipes (Box of 30)

Keep your Earasers ear plugs clean and safe with these cleaning wipes. These wipes are germicidal, anti-bacterial, and designed especially to dissolve ear wax and other buildup. Clean ear plugs work better and feel better. Includes one box of 30 individually-wrapped cleaning wipes.

$10.00

Westone DefendEar Digital Bluetooth Cable 64109

This DefendEar Bluetooth Headset Cable allows you to quickly and easily convert your custom-fitted DefendEar Digital Custom Earmolds into a wireless Bluetooth headset. Includes the Bluetooth Cable along with a high-impact hard case, charging cable, and a user manual.

$249.00

Westone DefendEar DX5 Neckloop (for Digital X5 Only) 64113

The DefendEar DX5 Neckloop allows you to add two-way communications when using the Wireless Communications Mode of the DefendEar Digital DX5. Connect the DefendEar DX5 with your own radio. Includes the wireless neckloop, lapel microphone, PTT switch and clip, and user manual.

$159.00

Westone DefendEar Digital Smartphone Cable 64110

This DefendEar Digital Smartphone Cable lets you turn your DefendEar Digital Custom Earmolds into a headset for your smart phone, enabling call and talk with your existing custom earpieces. Includes the Smartphone Cable along with a high-impact hard case, charging cable, and a user manual.

$199.00