Ear Plugs for Stadium Sports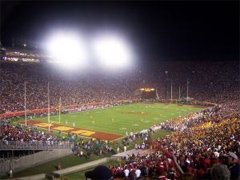 Stadium sports events are loud, with crowd noise alone reaching up to 129dB of sound in some venues! When the crowd is roaring, the band is playing, and the PA is blasting, your ears can take a real beating. Even at smaller venues and high school games, your hearing can get sacked by serious noise. There is no need to endanger your hearing to enjoy these huge sporting events. With the right ear plugs, you can take the dangerous edge off of stadium event noise while still being able to feel and hear all the thrills, sound, and fury of your favorite games and events. Here you will find ear plugs designed especially for stadium sports events, including a whole line of official NFL Ear Plugs.

Don't forget: When you bring the family to a game, always remember to protect your child's hearing with a set of Ear Muffs for Babies and Children, so you can enjoy the event safely with the whole family.
---
NFL Ear Plugs

NFL Ear Plugs are perfect for football games and other loud sporting events. Also great for tailgate parties, sleeping, mowing, working around the house, and any other loud environment! These come in specific team colors with team logos imprinted on the ends. All 32 NFL teams!



Westone TRU™ Recreational Universal Fit Musician Ear Plugs (NRR 12)

(NRR 12)

WR20 acoustic filters provide an average of 20 dB of noise reduction and an NRR of 12, making TRU Recreation ear plugs a great choice for concerts, clubs, airline travel and motorcycling, as well as many other activities in which you need to be able to hear clearly, but where the volume is too high to listen comfortably.

$18.38

Westone TRU™ Professional Universal Fit Musician Ear Plugs (NRR 2-16)

(NRR 2-16)

Westone TRU™ Universal Fit Professional Musician ear plugs let you enjoy high quality sound without the hassle of getting full custom musician ear plugs, but let you upgrade if you decide you want to later on. The filters are interchangeable and additional filters can also be purchased separately if you need them.

$59.90

Westone TRU™ Custom Professional Musician Ear Plugs (Two Earpieces with Filters)

Westone TRU™ Custom Musician Ear Plugs with advanced acoustic filters let you accurately and clearly hear whatever you are listening to, but just at a reduced volume. Comes with one set of filters; swap them out to change your level of protection. Two Earpieces With One Filter in Each.

$199.00