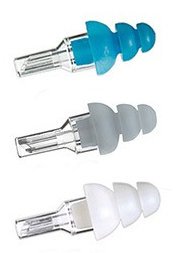 Natural Hearing + Volume Reduction for Music & Speech



We Also Recommend: Custom Molded Musicians Earplugs

Musician Earplugs are designed especially for musicians, but are great for all music lovers. Ordinary ear plugs cut off high frequency sound. The natural sound you get from musician ear plugs solves the problem by reducing the volume without distorting sounds.

Musician earplugs are not just for musicians! If you suffer from hyper sensitive hearing (hyperacusis) or you live in a very noisy environment, musician earplugs offer an excellent solution. The earplugs do not interfere with your ability to understand voices or enjoy the full range of sound from the music you hear. They just reduce the volume. Now you can turn down the volume on your world to reduce stress and increase enjoyment in your life.



If you need to use your natural sound earplugs frequently or over very long periods of time, we recommend the professional lab custom molded professional musicians ear plugs. These are custom-fitted to your unique ears for the ultimate in performance and comfort.