Ear Plug Accessories & Cases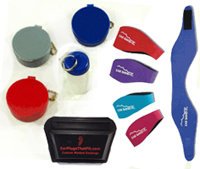 Our ear plug accessories make whatever ear plugs you choose more convenient and easier to use.
We offer a wide variety of ear plug cases to safely store your ear plugs in between uses, along with neck straps that help you hang onto your ear plugs during use. We have replacement tips for banded ear plugs, replacement filters for custom musician plugs and other accessories for custom molded ear plugs, and much more. You will also find a whole selection of swimming ear bands here, all of which help to keep your swimming ear plugs in place while you are playing in the pool.
TIP: We also offer custom printed and labeled ear plug cases (available with or without ear plugs inside) for your business or organization. Check them out here!
---
Ear Plug Cases

Keep your ear plugs safe with a handy ear plug case! Ear plug cases will keep your ear plugs clean and hygienic between uses, and will let you easily carry your plugs in a pocket or purse without losing or squishing them. We offer both round snap-top cases with key chains and two sizes of convenient Squeeze-To-Open (STO) cases for all your ear plug storage needs. Also see our custom printed ear plug cases.



Banded Ear Plug Replacement Tips

Do you have a banded earplug you love, but the tips are worn out? You can buy just the replacement tips if your band is in good shape, and we have most of the replacement tips you may need.



Swimming Ear Bands

Swimming ear bands are designed to prevent moldable ear plugs for swimming from falling out, helping to keep the ears dry during swimming and bathing. Available in a variety of fun colors and sizes to fit adults and children, swimming ear bands are a smart summer accessory for the pool, beach, or lake. Ideal for kids with ear tubes.



Custom Ear Plug Accessories

Custom ear plug accessories help you get the most out of your custom molded ear plugs. The ear plug lubricants here can make many types of ear plugs much more comfortable. Other products you will find here include ear plug lanyards, replacement filters for various custom musicians ear plugs, and more.



More Ear Plug Accessories

Here you will find neck cords, batteries, replacement sound tubes for the full Walkers Game Ear line of BTE products, 2-way radio wireless neck loops, and more hard-to-find ear plug odds and ends. If you can't find it anywhere else, you can probably find it here.



Safety Glasses with Built-In Ear Plugs

Safety glasses with built-in ear plugs are an excellent and convenient way to take care of two different, important safety concerns. By combining eye protection with hearing protection, safety glasses with ear plugs make it easier to stay safe on the job, at your home workshop, or when shooting at the range or afield.