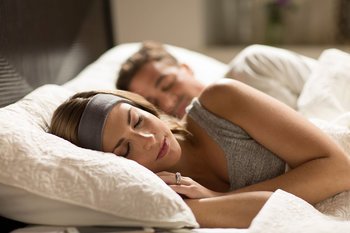 Product Number: passleepphone000-000
Mfg. Part No: SC6BS-US, SC6BM-US, SC6BL-US, SC6LS-US, SC6LM-US, SC6LL-US, SC6GS-US, SC6GM-US, SC6GL-US, S3C6US-US, S3C6UM-US, S3C6UL-US
Finally - a way to listen to music in bed, comfortably.



SleepPhones Earphones for Sleeping from Acoustic Sheep are designed to let you listen to music in bed, while staying comfortable and relaxed. SleepPhones won't fall off or make your ears hurt, even if you sleep on your side. The way it works is that SleepPhones feature a soft headband which fits snugly around your head and over your ears, while two specially designed thin, padded speakers nestled inside the headband provide good quality sound. The result is a truly excellent solution for listening to music, white noise, or any other soothing sound you like while you sleep.



Two Styles/Materials to Choose From!



SleepPhones now come in two different materials Classic material is the classic, plush Polartec® Power Stretch® fleece for a super soft, luxuriously comfortable fit. The newer Breeze material is a soft, lightweight, stretchy material that disperses heat and keeps you feeling cooler at night -- perfect for warm-natured people or warmer climates. If plush comfort is what you're looking for, the FLEECE models are perfect for you, especially for curling up on cold winter nights! If staying cool is most important to you, choose BREEZE for a comfortable night's sleep all year 'round.



SleepPhones Earphones for Sleeping Overview:
Features super-soft Polartec® Power Stretch® fleece headband
Padded speakers provide good sound & excellent comfort
SleepPhones won't fall out or start hurting during the night
Three headband sizes to choose from, so everyone can get a perfect fit!
Headband is washable and speakers are removable
Compatible with phones, iPods & any other sound source with a standard earphone jack
Classic material available in three colors: Midnight Black, Quiet Lavender, and Soft Grey.
Breeze material available in Galaxy/Royal Blue.
SleepPhones Sizing Information
| | | | | | |
| --- | --- | --- | --- | --- | --- |
| SleepPhones Size | Hat Size (US) | Hat Size (UK) | Inches | cm | Estimate |
| Extra Small | Up to 6 3/4 | Up to 6 3/4 | 20 to 21 3/8 | 51 to 54 | petite women |
| One Size Fits Most | 6 7/8 to 7 3/8 | 6 7/8 to 7 3/8 | 21 1/2 to 23 3/8 | 55 to 59 | nearly everyone |
| Extra Large | 7 1/2 and Up | 7 1/2 and Up | 23 1/2 to 25 | 60 to 63 | large and tall men |
What Sets SleepPhones Apart from Regular Headphones?
SleepPhones Part Numbers & UPC's
Midnight Black FLEECE
X-Small
Medium
X-Large
SC6BS-US
SC6BM-US
SC6BL-US
812765021981
812765021998
812765022001
Quiet Lavender FLEECE
X-Small
Medium
X-Large
SC6LS-US
SC6LM-US
SC6LL-US
812765022063
812765022056
812765022049
Soft Gray FLEECE
X-Small
Medium
X-Large
SC6GS-US
SC6GM-US
SC6GL-US
812765022018
812765022025
812765022032
Royal Blue BREEZE
previously Galaxy Blue
X-Small
Medium
X-Large
S3C6US-US
S3C6UM-US
S3C6UL-US
812765025668
812765025651
812765025644
If you have ever tried to sleep with earbuds in, you know how frustrating it can be. Your earphones can fall out of your ears, you can get tangled up in cords, and most in-ear earbud-style earphones are simply just not comfortable to sleep on -- they can hurt your ears after a while, especially if you sleep on your side.

SleepPhones solve all these problems. The soft headband comfortably keeps the speakers in place, so you won't lose your earphones during the night. Only a single (included) cord is needed to connect your SleepPhones to your smart phone, white noise machine, CD player, or other sound source, so there are no extra wires to get in your face or tangle you up while you sleep. And because the SleepPhones' unique headband design keeps the speakers in place right over your ears, wrapped in padding and soft fleece, you can wear your SleepPhones all night long without hurting your ears, no matter which position you like to sleep in!

Wearing SleepPhones to bed is a great way to unwind to your favorite tunes as you drift off to dreamland. You can also play white noise sounds over your SleepPhones to help block out a snoring partner, noisy neighbors, traffic, or any other unwanted nighttime noises! With SleepPhones, you have more control over your auditory environment while you sleep, which can help you relax and get to sleep faster -- and you can enjoy better-quality sleep, too, because SleepPhones let you play your favorite sounds all night without any sleep-disturbing interruptions.



If you enjoy listening to music while you sleep, get yourself some SleepPhones; these may very well be the best headphones for sleeping anyone has ever dreamed up!




---
See Also
---